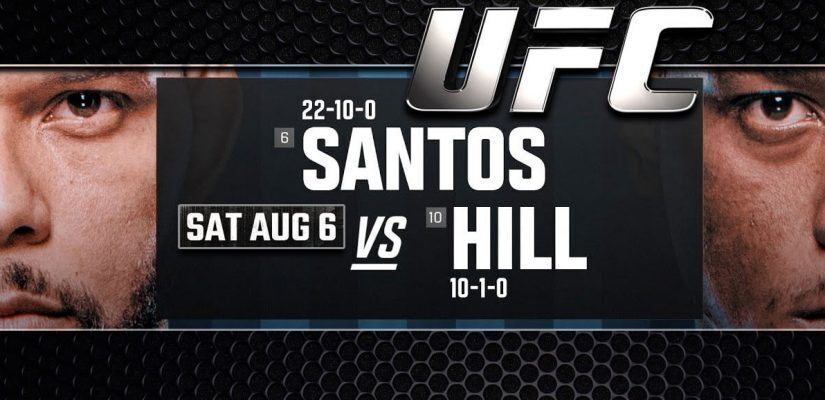 UFC on ESPN 40 odds from Bovada are in, with 18 betting markets for each bout on the UFC Fight Night; Santos vs Hill card. We're breaking down our top predictions for each fight, and giving you advice on which bet's to avoid, and which to parlay. 
How to Watch and Bet on UFC on ESPN 40 
UFC on ESPN 40 airs on ESPN and ESPN+ for the prelims. Tune in at 7:15 PM on August 6th, 2022 and click any of our place bet buttons to make your way to the UFC betting site with the best new bettor bonuses today. Many UFC on ESPN 40 betting lines will move just before the fight takes place, so to get these odds you'll need to place your bet early. 
UFC on ESPN 40 Predictions
Here are our top picks for each fight. We're listing the picks we find most likely to win and pay, while going into detail on hire risk bets under each fight. 
Hill Money Line -335
Luque vs Neal: Over 1.5 Rounds
Usman vs Puaga: Fight Completes 1 Full Round-350
Miler Money LIne -115
Spivac Money Line -285
Lipski vs Cachoeira:  Fight Finishes 1 Round -650
Oleksiejczuk Money Line -750
McKinney Money Line -1100
Battle Money Line -300
Quinlan Money Line -250
McKenna Money Line -210
Egger Money Line -110
PLACE YOUR BETS NOW!
UFC on ESPN 40 Odds
Rather than listing each available bet, we go over our top and bottom picks for each fighter. You'll see all 22 main event markets for the UFC on ESPN 40 odds on Bovada. 
Jamahal Hill -335 vs Thiago Santos +255
Hill is on a two fight knockout streak after losing to Paul Craig via TKO/Triangle Choke. He was the underdog against Crute at +170 and won with ease, but was upset by Craig as a -235 favorite. Santos lost as the +520 underdog to Ankalaev in a competitive five round decision, but Thiago has gone 4-1 in his last five. 
Key Stats For Hill vs Santos Bets
Fighter 
Hill
Santos 
Losses via TKO in UFC 
1
2
Average Strikes Absorbed per Minute 
3.71
2.37
Takedown Defense 
60%
65%
Neither fighter focuses on takedowns, leading us to forget about any submission props. Hill gets hit more often, but has taken less damage over his shorter UFC career.
Both fighters hold wins over Johnny Walker, but only Hill knocked him out while Santos showed a competitive kickboxing bout.
High Risk Prediction:Jamahal Hill by TKO -168
Hill has a 66% knockout ratio in the UFC. He doesn't need to out-land opponents to finish them. Walker hit him twice as many times in their three minute fight, but Hill's striking is fantastic. Our concern is the standing clinch game of Thiago, which can be stifling for distance fighters. Even Jon Jones struggled with this tactic. 
Low Risk Prediction: Hill Money Line -335
Our top pick for this fight is the Hill Money Line, with UFC on ESPN 40 odds paying winnings of $29.85 per $100 wager. This fight will look similar to the bout with Branch or Ankalaev, and Hill will edge out an exciting decision or knockout in any round. 
Top Over/Under Bet for Hill vs Santos
Jamahal Hill's first round TKO's make this a tough call. Surviving Ankalaev lets us know that Thiago is still competitive. We see a longer fight, but the safest pick feels like the Over 0.5 Rounds prop bet at -650.
PLACE YOUR BETS NOW! 
Geoffrey Neal +155 vs Vicente Luque -200
These two top five welterweights are fighting for who's next in line to fight Usman or Khamzat. Luque has been the favorite in every fight since his +100 loss to Thompson. He dropped a decision to Belal Muhammad as a -160 favorite. Neal is also a repeat favorite in spite of losses to Magny and Thompson at -160. 
Back to your regularly scheduled programing 📺
[ @HandzofSteelMMA | #UFCVegas59 | TOMORROW | Prelims 7pm ET | Main Card 10pm ET | Live on @ESPN ] pic.twitter.com/oAn8yLJKTj
— UFC (@ufc) August 5, 2022
Key Stats For Luque vs Neal Bets
Fighter 
Luque
Neal
Losses via Decision in UFC 
4
2
Average Strikes Landed per Minute 
5.3
4.63
Takedown Defense 
61%
85%
Luque has fought more times in the UFC, nearly double Neal's experience. His finishes of Chiesa and Woodley stand out as recent showstoppers. Neal struggles to deal with high volume strikers, but has knocked out a higher percentage of his opponents overall. Don't expect much grappling, though Luque has the clear advantage. 
High Risk Prediction: Geoff Neal Money Line +155
Neal has a real chance of winning this fight. His knockout power is arguably greater than Luque, and he's never gone for a takedown so we can almost eliminate the ground game from the equation. If this is a three round kickboxing match, we can easily see Neal taking the win. 
Low Risk Prediction: Over 1.5 Rounds
As both men fight better opponents, we'll see more decisions from either fighter. Neal couldn't finish Ponzinibbio and has seen decisions against every fighter he's faced inside the top ten Welterweights. While Luque has finishes, they're primarily against high quality grapplers like Chiesa and fighters who shoot when panicked, like Woodley. 
PLACE YOUR BETS NOW! 
Mohammed Usman +275 vs Zac Pauga -265
Both fighters are debuting heavyweights with Usman coming from Titan FC and PFL, while Pauga is an LFA and Cage Warriors fighter. Both are repeat favorites, but only Pauga is undefeated. This is The Ultimate Fighter season 30 finale bout. 
Key Stats For Usman vs Pauga Bets
Fighter 
Usman
Pauga 
All Time Finishes (pro, amatuer and exhibition) 
5
6
Record 
7-2
5-0
Weight 
239
225
Pauga is a heavy favorite for a reason. Still, Usman's weight advantage leaves some doubt in our minds. Usman has more submission wins and a better BJJ and wrestling background. Steer clear of the Pauga submission or inside the distance prop bets. 
High Risk Prediction: Puaga by TKO +235, Usman by Points +550
We could see a Puaga finish, but Usman could easily win two rounds of this fight with better grappling. Leaning his weight on Puaga should be the game plan, while Puaga needs to win a boxing match against a man who's never been knocked out. 
Low Risk Prediction: Fight Completes 1 Full Round-350
Both fighters have second  round finsihes, while both of Usman's losses have been by decision and second round finish. I don't see an early win for either man. There's a real possibility of the Pauga second round TKO, but we prefer to stay in the win column. Don't get tricked into betting the Over 1.5 UFC on ESPN 40 odds for this bout. 
PLACE YOUR BETS NOW!
Brogan Walker-Sanchez -105 vs Juliana Miller -115
Our first Ultimate Fighter Season 30 fight features Brogan, a woman who struggled in Invicta but has bounced back with decision wins in TUF, against Miller, a submission fighter that has primarily focused on Women's pro grappling until her time at TUF. 
Team @Amanda_Leoa vs Team @VenezuelanVixen in our first #TUF30 finale 👀
Brogan Walker takes on Juliana Miller tomorrow night!
[ #UFCVegas59 | Prelims 7pm ET | Main Card 10pm ET | Live on @ESPN ] pic.twitter.com/3je775TANr
— UFC (@ufc) August 5, 2022
Key Stats For Walker-Sanchez vs Miller Bets
Fighter 
Walker-Sanchez
Miller 
Home Gym 
Purebred MMA
10th Planet Sandiego, Team Hurricane Awesome
Career Submission Wins
1
3
Age 
33
26
Miller is training at two academies that are quickly proving their worth in women's MMA, while Purebred has yet to produce any major athletes. Miller's BJJ experience is light years past Walker-Sanchez, and her only hope is to keep the battle standing. 
High Risk Prediction: Miller By Submission +500
Miller has won 3 of her four pro and TUF bouts by submission. She looks good on the ground, and Walker-Sanchez is yet to face a BJJ fighter of the same caliber. This will come down to wrestling, and I see Miller as quickly improving inside the octagon. 
Low Risk Prediction: Miler Money LIne -115
Miller has more tools and a better record overall. She's a quick study, and as the younger fighter I see her improving more in the last fight camp. Bet the favorite for an $86.96 return per $100 wager. 
Top Over/Under Pick: Under 2.5 Rounds +275
This is a high risk bet, as Walker-Sanchez has seen a string of career decisions. We think Miller has a strong chance of submission, and there's no real difference between this bet and her submission prop at +500. Skip the Over/Under betting. 
PLACE YOUR BETS NOW! 
Augusto Sakai +225 vs Serghei Spivac -285
Sakai is on a three fight losing streak, each time as the underdog +110 to +150. He's won as the favorite in all five UFC appearances prior. He faces Spivac, who's now 5-3 in the UFC, losing only to Aspinall, Tybura and Harris as the underdog. 
Key Stats For Sakai vs Spivac Bets
Fighter 
Sakai 
Spivac 
Losses via TKO in UFC 
3
2
Average Strikes Absorbed per Minute 
4.09
3.22
Average Takedowns Per 15 minutes  
.14
3.29
Spivac is only slightly more defensive than Sakai. He grapples more effectively, but the differences in knockout losses are primarily based on fighter selection. Sakai has fought two top ten heavyweights and lost, while Spivac's losses are to similar calibers of fighter. Avoid the decision props and Over Bets on this fight. 
Moderate Risk Prediction: Fight Goes to Decision, No -225
Both fighters have strong knockout power and a long history of getting knocked out. It seems almost inevitable that we will see a TKO. However, Spivac is a quality grappler and has used it to win decisions against fighters like Tai Tuivasa. While he finished that fight, it's unclear if a decision win similar to the Carlos Felipe bout isn't inevitable given Sakai's power.  
Low Risk Prediction: Spivac Money Line -285
He's the more defensible striker and the far better grappler. Expect Spivac to neutralize Sakai more than he smashes him. Their respective bouts against Tuivasa are a tell into the difference in caliber of fighter overall. 
PLACE YOUR BETS NOW! 
Ariane Lipski -185 vs Priscila Cachoeira +147
The favorite Lipski has gone 1-2 over her last three, losing twice via knockout. She was the underdog in both bouts, but has won her last three fights as the favorite. Cachoeira is 3-1 over her last four, winning as the underdog in all three victories, ranging from +170 to +200.
Few believe in Cachoeira in spite of her recent exciting run, namely because she struggles with grappling and BJJ.
Key Stats For Lipski vs Cachoeira Bets
Fighter 
Lipski 
Cachoeira 
Losses via Finish in UFC 
2
2
Average Strikes Absorbed per Minute 
3.90
7.91
Takedown Defense/Offensive %
55%, 20%
65%, 33%
Lipski's lack of takedown offense should concern her money line. Cachoeira has more knockout power, and is willing to engage in high volume exchanges. Given recent performances, Cachoeira looks better on paper. 
High Risk Prediction: Cachoeira Money LIne +147
She's a mild underdog, but she has the knockout power to win. Both of her submission losses have been to fighters with quality takedowns, while Lipski has almost no wrestling and has submission wins by diving on leg locks. The UFC on ESPN 40 betting odds on her TKO prop are also lucrative at +575. 
Low Risk Prediction: Fight Finishes 1 Round -650
Both fighters have second and third round finishes in their careers. Lipski has been knocked out in the second round twice, and I think we could see a repeat of that outcome. This bet covers six of Lipski's seven UFC performances to date and five of Cachoeira's seven. 
PLACE YOUR BETS NOW! 
Michar Oleksiejczuk -750 vs Sam Alvey +475
Oleksiejczuk is the second strongest favorite of the night despite coming off a loss. He's been finished twice by submission in his last five, losing three times as the underdog since 2019. Alvey is in a rough patch, and has gone 0-7-1 in his last eight fights. Many of these bouts are competitive, but Alvey has been the underdog in all of them, ranging from +140 to +320. This is the biggest underdog position of his career. 
Key Stats For Oleksiejczuk vs Alvey Bets
Fighter 
Oleksiejczuk
Alvey 
Age 
27
36
Average Strikes Landed/ Absorbed per Minute 
4.75, 4.27
3.3, 3.57
Takedown Defense 
47%
82%
Oleksiejczuk is the younger fighter, and he pushes the pace more often. Neither man is much of a grappler in the ring, but with Alvey repeatedly losing, we wonder if he'll look to change his tactics in order to win rounds for decision wins. 
High Risk Prediction: Alvey Money LIne +475
I think Alvey has a real chance to win a decision. He's fought several close fights in the past, and as a counter grappler he's fantastic. I think he's aging out, and will need his style to evolve if he's going to continue being competitive against younger fighters. The 4.75 times your money payout is worth a small wager. 
Low Risk Prediction: Oleksiejczuk Money Line -750
He's a man with the right intensity to beat Alvey on the feat. Oleksiejczuk is a terrible grappler but Alvey seems adverse to using his BJJ skill for some reason, and it will cost him the bout. Oleksiejczuk has been submitted twice, and Jacoby won in the clinch and ground game. Alvey won't utilize those tactics. 
PLACE YOUR BETS NOW! 
Erick Gonzalez +650 vs Terrance McKinney -1100
McKinney was a +145 underdog against Dober, a fight we were sure he would win. He upset Fares Ziam and Matt Frevola as a +150 to +180 underdog in back to back wins. Terrance faces Gonzalez, who lost his UFC debut to Jim Miller in October 2021 as a +260. Gonzalez mostly fought for Combate outside of the UFC. 
Key Stats For Gonzales vs McKinney Bets
Fighter 
Gonzalez
McKinney
Fighter Gym
Fight Science
Warriorcamp MMA
Record 
14-6
12-4
McKinney has only ever lost by stoppage. He's a fighter with a high rate of fire and has no decisions in his career, win or lose. Neither man has a unique advantage coming from their respective training camps. 
Moderate Risk Prediction: Fight Goes to Decision, No -650
Gonzalez has survived many losses to decision, but McKinney's insistence on ending fights early makes it an easy bet. I see no real evidence inside Gonzalez fight tape that he will win, so a high risk bet may be McKinney inside the distance at -510.
Low Risk Prediction: McKinney Money Line -1100
McKinney could easily see his first decision in this fight. It's bound to happen at some point, and considering Gonzalez has survived in three of his six losses, it's possible he'll learn from the Drew Dober fight and weather McKinney's first round storm. I wouldn't be shocked if McKinney's coaches look for a slower pace after losing a fight from overexertion. 
PLACE YOUR BETS NOW! 
Bryan Battle -300 vs Takashi Sato +225
Battle won over Gore as a +145 underdog and easily won his debut as the favorite. Sato is now 2-3 in the UFC, losing to Nelson and Baeza as a +500 and +182. He's yet to secure the upset win in the UFC. 
Key Stats For Battle vs Sato Bets
Fighter 
Battle 
Sato 
Reach 
77''
73''
Average Strikes Landed per Minute 
7.1
2.28
Record 
8-1
16-5
Sato is the more experienced fighter, but it's clear he's lost to lower caliber men in the past. Considering Battle's high rate of fire and Sato's four inch reach disadvantage, we may see more grappling than Sato has ever brought to the cage. He's landed only 1 takedown in his UFC career. 
High Risk Prediction: Battle By Submission +265
The UFC on ESPN 40 odds show Battle winning in all categories with a high likelihood of decision win. However, Sato has been submitted twice in the UFC. Considering Battle's penchant for ground work, it looks like the obvious outcome.
For a slightly lower risk profile, consider Battle inside the distance at +210 for your UFC on ESPN 40 betting pick. 
Low Risk Prediction: Battle Money Line -300
This $33 return per $100 wagered is one of the best on the card. I think it's right for a parlay pick considering both fighters' histories and performances. I see Battle easily edging out a decision win if he doesn't catch the sub. Sato doesn't have much beyond a puncher's chance. 
PLACE YOUR BETS NOW! 
Jason Witt +200 vs Josh Quinlan -250
Quinlan won his DWCS showing but it was overturned because Quinlan tested positive for Drostanolone. He was still given a UFC contract and will face Witt, a 19-8 veteran who's now 2-3 in the UFC. He upset Barberena at +225 and defeated Cole Williams as a -170 favorite. 
Key Stats For Witt vs Quinlan Bets
Fighter 
Witt 
Quinlan 
Record 
19-8
5-0, 1 NC
Team
Glory MMA and Fitness
Milestone Martial Arts
Age 
35
29
Since Quinlan had never been drug tested before his failed test, it should be noted that he was likely cheating through his early career. This long term steroid use has some positive effects, and will carry into his fight against Witt. 
Moderate Risk Prediction: Quinlan by TKO -115
Witt has been TKO'd six times in his 25 fight career. It's fairly reasonable it will happen again. Quinlan isn't fighting at a top camp, and Glory MMA is climbing in ability quickly, but considering Quinlan's surrounding circumstances, a TKO for Quinaln is an easy bet to make.  
Low Risk Prediction: Quinlan Money Line -250
He's been undefeated for 11 fights if you include his amatuer career. This is easily the best fighter Quinlan has ever faced, but considering the age gap, Witt's career is on its tail end. Short welterweights tend to drop down to 155 after 35. 
Top Over/Under Betting Pick: Under 2.5 Rounds -155
If you're a fan of Witt, you should hope he can sink the submission and hedge his money line with the Under prop bets. Steer clear of any Witt winning props. 
PLACE YOUR BETS NOW! 
Cory McKenna -210 vs Miranda Granger +168
'Poppins' McKenna is now 2-1 in the UFC, losing as the favorite and winning twice as a +150 underdog. Granger is 1-2 in the UFC, and lost by submission to Amanda Lemos in 2019 as a -189 favorite. 
Key Stats For McKenna vs Granger Bets
Fighter 
McKenna 
Granger 
Last Fight Date 
March 2022
November 2020
Record 
6-2 
7-2
Average Strikes Absorbed per Minute 
3.71
2.64
Age 
23
30
Granger seems to engage less often. She fails to push the pace and this costs her fights. McKenna is young, which means she'll be improving fast. Her mixed style is perfect against Granger, who's 40% takedown defense is likely to give up some control time. 
High Risk Prediction: McKenna by Points -120
Mckenna can get the submission as well, but we see her focused on ground striking rather than hammering home submission attempts. This prop pays $83.33 in winnings per $100 wager. 
Low Risk Prediction: McKenna Money Line -210
Avoid the over/under prop bets. McKenna has finished outside the UFC. She's yet to make a submission attempt, but that doesn't mean she won't grow into it. McKenna has shown an ability to evolve between fights, and we see her winning this fight with style. 
PLACE YOUR BETS NOW!
Mayra Bueno Silva +110  vs Stephanie Egger -132
Silva is coming off an easy win as a -400 favorite. She lost to Fiorot as the underdog and is yet to get a UFC upset. Egger is 2-1 in the UFC with two stoppages. She was the underdog in her win over Jessica-Rose Clark in February.
Key Stats For Silva vs Egger Bets
Fighter 
Silva 
Egger 
Average Strikes Absorbed per Minute 
4.98
1.69
Takedown Defense/Offensive % 
69%, 0%
33%, 41%
Egger is the more well rounded fighter, with more fines and a better striking defense overall. In her career, she's lost to better grappler like Tracy Cortez but is yet to be finished in an organization. 
High Risk Prediction: Egger Inside the Distance -120
Egger is a finisher. She has both submission and TKO skill, but it's primarily her conditioning that puts her head and shoulders above most fighters.
Silva has never been stopped in the UFC, but I can see Egger being the first.
I'm skipping this bet because Egger's moneyline shows only a ten point betting difference. 
Low Risk Prediction: Egger Money Line -110
Our final UFC on ESPN 40 bet of the evening, Egger will win this fight against the better submission artist by conditioning alone. She's yet to be submitted and Silva's performance against Fiorot showed us how she responds to decent wrestlers. Bet the money line for a $90.91 return. 
PLACE YOUR BETS NOW!
UFC on ESPN 40 Parlay Wrap Up
Our parlay picks for the evingin include money lines for Bryan Battle, Spivac and Terrance McKinney. If you're looking for more MMA action to add to a parlay ticket, check our blog for the WNO finals on Sunday.