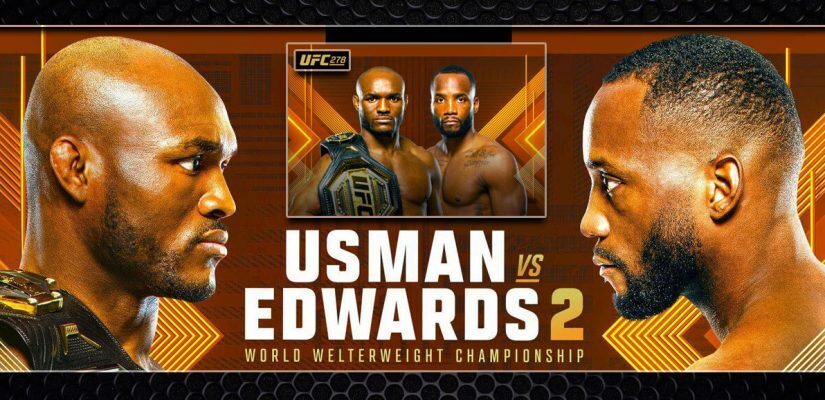 UFC 278 is stacked with strong betting favorites and 22 betting markets for the main event. Our UFC 278 odds are pulled from Bovada, but many of the top UFC betting sites have fantastic coverage for this event. We're breaking down all thirteen fights and giving our top betting pick as well as our advice on parlays and underdog props.
How to Watch and Bet on UFC 278 
UFC 278 airs on August 20th, 2022 at 6:00 PM ET. You'll be able to catch the prelims on ABC and ESPN+, but the main card is PPV only. You can bet on the fights by clicking any of our place bet buttons or banners below each prediction, many of them offering high bonuses for new MMA bettors. 
UFC 278 Predictions 
Here's a quick run down of our top picks for all thirteen fights. Scroll for greater detail and some higher paying prop bet picks for the UFC 278 betting odds from Bovada. 
Usman Money Line 
Rockhold Money Line
Aldo Money Line 
Pedro vs Hunsucker: Fight Goes to Decision, No
Wu vs Lucie: Fight Completes 1 Round Prop
Woodson Money Line
Leonardo Santos Money Line
Romanov Money Line
Perrin vs Aori: Over 1.5 Rounds 
Maverick Money Line
Fletcher Money Line
Albazi vs Figueiredo: Over 1.5 Rounds 
Altamirano Money Line
PLACE YOUR BETS NOW!
UFC 278 Odds 
Usman vs Edwards odds have dozens of different bets, with multiple bets specific to each bout. We're focused on the most likely bets, and an understanding of the money line in each fight. Expect at least one low risk bet and one higher risk, higher payout bet. 
Kamaru Usman -425 vs Leon Edwards +315
Usman is an even stronger favorite in this bout than most other title defenses. He was a -525 against Maia, but is now undefeated in the UFC with six title defenses. Edwards' last loss was to Usman in 2015 as a +200. In his nine fight winning streak since then, Edwards has upset Tumenov and Luque at +110 and +150. 
Key Stats For Usman vs Edwards 
Fighter 
Usman
Edwards 
Average Takedowns per 15 Minutes 
3
1.48
Average Strikes Absorbed per Minute 
2.59
2.15
Takedown Defense 
100%
70%
It's surprising to most fight fans to see Edwards get hit less often on average. Leon has strong self preservation, but his boxing simply isn't where it needs to be to beat Usman standing. Nate Diaz proved that, out striking Edwards in Jun 2021, but losing due to takedowns. Usman's 100% takedown defense ratio makes it a struggle to see Leon's path to victory. 
Razor-sharp elbows from @Leon_edwardsmma 🔪
Looking in fine shape for #UFC278 💪
📹: Leon Edwards pic.twitter.com/qnbKCKXwtB
— #UFC278 on BT Sport (@btsportufc) August 18, 2022
Usman vs Edwards Betting Odds 
Bet 
Odds 
Usman Money Line
-425
Usman by 5 Round Decision  
-120
Over 1.5, Under 1.5 Rounds 
-550, +350
Usman in Round 4, 5 or Decision 
-165
Fight Completes 1 Round 
-800
There aren't too many bets that look good aside from the Usman money line. Usman's knockout power seems to have improved, finishing 60% of his last five via knockout. Edwards was his second win in the UFC, and since Usman has evolved into a sprawl and box fighter rather than a takedown centered powerhouse. Edwards only hope is to out point Usman, which should slow down the fight, pointing to a late win for the Champ. 
Luke Rockhold +270 vs Paulo Costa -360
UFC 278 odds point to another win for Costa in nearly every category. Rockhold was a -235 favorite in his loss to Jan Blachowicz, making him 1-3 in his last four. Rockhold was the favorite in each fight except his +141 loss to Chris Weidman, his only career loss as the underdog. Costa is now 5-2 in the UFC, with back to back underdog losses. His last fight at -360 was a win over Johnny Hendricks in 2017. 
Key Stats For Rockhold vs Costa
Fighter 
Rockhold
Costa 
Reach
77''
72"
Average Strikes Absorbed per Minute 
2.43
7.02
Sub Average
1.1
0.0
My initial impression was that Rockhold was outclassed, but the stats tell a different story. Costa struggles with fighters who have a reach advantage against him. Izzy's 80'' reach was a problem the whole fight, and even Romero's 73'' reach gave him issues on the counter punch. Rockhold is much more willing to go for submission finishes, accumulating three in the UFC.
Luck Rockhold on water…. 😁 @bisping #UFC278 #MMATwitter pic.twitter.com/2GN4oi2VH4
— Just Another UFC Fan. (@thingsufc1) August 13, 2022
UFC 278 Co Main Event: Costa vs Rockhold Betting Odds 
Bet 
Odds 
Rockhold Money line 
+270
Costa Money Line
-360
Over 1.5, Under 1.5 Rounds 
-135, +105
Will the Fight Go the Distance, No
-325
Rockhold's underdog status has more to do with his time away from the UFC. He's been away for three years, and in that time it's unclear if he's focused on redeveloping his fight game. Costa hasn't really shown up in his last two, and it's clear the pressure gets to him. He has put on muscle, focusing on a larger cut, which points to a strategy of ending the fight early with less of a focus on decision wins. Rockhold will have the advantage on the ground and at range, giving him our top pick for this fight. 
PLACE YOUR BETS NOW! 
Jose Aldo +110 vs Merab Dvalishvili -130
Aldo is on a three fight tear at bantamweight. He's 6-6 over his last twelve fights, winning upsets in three of those bouts. Merab is on a seven fight winning streak ranging from –158 to -700. His last loss was to Ricky Simon as a -110 in 2018. UFC 278 betting odds point to a long fight with a 75% chance of a decision. 
Key Stats For Aldo vs Dvalishvili 
Fighter 
Aldo 
Dvalishvili
Knockout Losses in UFC 
21.05%
11.11%
Average Strikes Absorbed per Minute
3.74
2.28 
Takedown Defense 
90%
78%
Takedown Attempts per 15 Minutes 
.51
7.3
Aldo has fought a much tougher pool of fighters overall, with nearly everyone in his last ten fights inside the featherweight or bantamweight top five. Merab is great, but the majority of his opponents weren't even in the top ten, aside from his win over Moraes. Aldo's takedown defense should scare Dvalishvili fans. His last fight where he gave up more than one takedown was 2013 in a win over Frankie Edgar. 
Aldo vs Dvalishvili Betting Odds 
Bet 
Odds 
Aldo Money Line
+110
Merab Dvalishvili Money Line 
-130
Over 1.5, Under 1.5 Rounds 
-425, +285
Will the Fight Go the Distance Yes, No 
-200, +147
Both fighters are capable of the finish, but Merab's lack of high level experience makes me skeptical of the Over. Merab is improving in striking, but he's lightyears from Aldo's technical expertise. This fight comes down to where you think Dvalishvili lands on the rankings, and how lucky his finish over Moraes was. 
Our top pick is the Aldo money line. When further odds are released, we'll be looking at the fight completes Round 1 prop bet for a higher confidence parlay pick. 
PLACE YOUR BETS NOW!
Alexander Romanov -420 vs Marcin Tybura +305
Tybura is 9-6 in the UFC, and has upset Greg Hardy, Ben Rothwell, and Sakai all under +200. He's 5-1 over his last six, with his +250 underdog loss to Volkov being his most recent showing. Romanov is undefeated, and at 5-0 in the UFC with an 80% finishing ratio, it's tough to bet against him. Still, Tybura is far and away the toughest fighter he's ever faced, ranging -185 to -510 in his other UFC showings. 
Key Stats For Romanov vs Tybura 
Fighter 
Romanov 
Tybura 
Average Takedowns per 15 Minutes 
6.46
1.54
Average Strikes Absorbed per Minute 
1.35
3.44
Takedown Defense 
20%
82%
Last Weigh In
262
249
Tybura gets hit more often, his takedown defense stats tell the story of a fighter with a more consistent kickboxing history. Romanov will likely get the takedown, but I'm interested to see if he simply pulls guard with Tybura and makes attempts of his own. Romanov is the larger man by about fifteen pounds. That's a bigger difference than most weight classes, and matters more than many people would expect, especially in grappling.  
Romanov vs Tybura Betting Odds 
Bet 
Odds 
Romanov Money Line 
-420
Tybura Money Line
+300
Over 1.5, Under 1.5 Rounds 
-190, +145
Romanov by TKO or Sub
-120
Most Takedowns Landed, Tybura 
+325
There's a small chance Tybura lands more takedowns overall. Romanov is likely to finish, but Tybura is only 3-3 for decision and finish losses. If Romanov continues his finishing streak, it's likely to be Tybura's first submission loss. Romanova has a 60% submission ratio in the UFC, which is unreal, even for only having five fights. 
PLACE YOUR BETS NOW!
Harry Hunsucker +525 vs Tyson Pedro -850
Hunsucker has been knocked out three times in a row, losing to  Vanderaa, Tuivasa and Tafa all by KO. Pedro is 4-3 in the UFC since 2016, and he's lost as the major favorite in the past. He was a -525 favorite over Rua and lost by KO. The only decision loss between these two is Pedro's 2017 bout with Latifi. 
Key Stats For Hunsucker vs Pedro 
Fighter 
Hunsucker
Pedro 
Reach
75"
79"
Average Strikes Landed per Minute 
3.83
2.89
Submission Average 
2.4
1.3
Hunsucker is more aggressive overall. His 2.4 submission attempt ratio is very high, and he keeps a much faster pace than Pedro overall. Pedro has four UFC finishes, two of each submission and KO. 
Hunsucker vs Pedro Betting Odds 
Bet 
Odds 
Pedro Money Line
-850
Pedro by TKO or Sub
-550
Over 1.5, Under 1.5 Rounds 
+265, -385
Fight Goes to Decision, No 
-900
I'm focused on the fight showing no decision prop betting pick. I think the -900 is worth parlaying. There's no clear path to a decision win for either fighter, Pedro by finish props are priced just slightly better, and the Hunsucker upset isn't worth losing your parlay ticket over. The UFC 278 odds show some fight specials, like most significant strikes, but none of them are predictable. 
PLACE YOUR BETS NOW!
Jared Gordon -290 vs Leo Santos +223
Santos is on a two fight skid, losing both as a favorite ranging -150 to -200. Gordon is 3-2 in his last five fights, upsetting both Dawson and Solecki. He has struggled with getting knocked out, losing four fights by TKO in the UFC. Santos has scored two UFC level TKO's over Kevin Lee and Stevie Ray.  
Key Stats For Gordon vs Santos 
Fighter 
Gordon
Santos 
Average Takedowns per 15 Minutes 
2.2
1.01
Reach 
68"
75"
Takedown Defense 
54%
86%
The stats show Santos ready to outwork Gordon. Jared will need nearly twice as many takedown attempts as normal to meet his usual takedown numbers, and Santos' reach advantage should be considered when betting the decision win props. 
Gordon vs Santos Betting Odds 
Bet 
Odds 
Santos Money line 
+223
Santos by Points 
+575
Over 1.5, Under 1.5 Rounds 
-285, +210
Gordon Money Line 
-290
We think Santos has the upper hand. His recent struggle doesn't excuse his knockout power and normally exemplary takedown defense. We think the under could be the right bet, given Gordon's history of first round knockout losses, but the Santos Money line pays enough that we're banking on his upset. 
PLACE YOUR BETS NOW! 
Lucie Pudilova -130 vs Yanan Wu +111
Wu is 1-4 in the UFC, with only a single submission win as a +300 underdog. Pudilova isn't much better off. At 2-5 for the UFC, she's been submitted only once, and engaged in three very tough decision losses with Landberg, Carmouche and Aldana. 
Key Stats For Pudilova vs Wu 
The stats are surprisingly even, with similar numbers across all categories. Neither fighter has a notable striking advantage, though it's arguable that Pudilova has faced better fighters overall.  
Pudilova vs Wu Betting Odds 
Bet 
Odds 
Pudilova by Submission 
+800
Fight Completes 1 Round, Yes 
-1400
Over 1.5, Under 1.5 Rounds 
-650, +400
We're focused on the long fight. Wu could take a late round submission win, but neither fighter has shown much finishing ability at the UFC level. Bet the Fight Completes 1 Round prop bet for an easy parlay return.
PLACE YOUR BETS NOW! 
Luis Saldana +255 vs Sean Woodson -335
Saldana upset Souza as a +130, but lost to Lingo as a -104. Woodson is in a similar position at 4-1 in the UFC and DWCS. He lost as a -500 favorite to Julian Erosa in 2020. Woodson is a stronger finisher, but Saldana has been better at slowing down the pace of fights to win upset decisions. 
Key Stats For Saldana vs Woodson
Fighter 
Saldana 
Woodson 
Average Takedowns per 15 Minutes 
.54
0
Average Strikes Absorbed per Minute 
3.32
3.76
Reach
73"
78"
Saldana will have to box his way inside to win any takedowns. He's accustomed to winning decisions with his striking, but Woodson carries a higher pace overall. 
 Saldana vs Woodson Betting Odds 
Bet 
Odds 
Woodson Money Line 
-360
Fight goes the Distance, No
+100
Over 1.5, Under 1.5 Rounds 
-285, +210
Saldana Money Line 
+255
Woodson is a strong favorite, and he's a bad style match up for Saldana. His reach advantage and counter grappling style are a serious threat to Saldana's focus on winning decisions. Expect a win from Woodson, likely off his takedown defense. 
PLACE YOUR BETS NOW! 
Jay Perrin +135 vs Qileng Aori -165
Aoriqileng is 1-2 in the UFC coming off his first upset knockout loss. He's finally shown off his heavy hands, and now faces Perrin, an 0-2 UFC fighter with a heavy focus on grappling. 
Key Stats For Perrin vs Aori
Fighter 
Perrin 
Aori 
Average Takedowns per 15 Minutes 
3
2.29
Average Strikes Absorbed per Minute 
3.7
7.77
Takedown Defense 
54%
54%
Neither fighter has a very defensive style. Aori was knocked down twice by Molina in their fight of the night performance in 2021. Perrin struggles to do much more than score takedowns, and he lost to Dwight Joseph despite controlling a majority of the match. 
Perrin vs Aoriqileng Betting Odds 
Bet 
Odds 
Aoriqileng Money Line
-165
Perrin Money Line 
+135
Over 1.5, Under 1.5 Rounds 
-400, +275
Aoriqileng's KO win was in the first round, and that makes this fight fairly unpredictable. His opponent Cameron Else has been knocked out 4 times in his career, while Perrin has never been finished. We're focused on the Over 1.5 rounds prop bet, but not as a parlay bet for the UFC 284 odds. . 
Miranda Maverick -550 vs Shanna Young +400
Maverick is coming off a submission win over Mazo, offering her the best odds of her career over Shanna Young. Young is coming off her first UFC finish and win. Collectively, these fighters have seen four decisions across nine fights. 
Key Stats For Maverick vs Young 
Fighter 
Maverick
Young 
Average Takedowns per 15 Minutes 
2.1
0
Average Strikes Absorbed per Minute 
2.69
5.15
Takedown Defense 
44%
60%
Young gets hit more often and has no real offensive ground game to speak of. She's focused on striking, but against Maverick she'll be put on the back foot defending takedowns for the majority of the match. 
Maverick vs Young Betting Odds 
Bet 
Odds 
Maverick Money Line
-650
Maverick Submission 
+150
Over 1.5, Under 1.5 Rounds 
-250, +185
Maverick should take this fight with ease. As long as she can avoid the knockout, she'll take the win. We're betting the money line, but don't be scared to take a slight risk on the prop submission win. 
PLACE YOUR BETS NOW!
A.J. Fletcher -164 vs Ange Loosa +135
Fletcher is an exciting striker and grappler, now 1-1 in the UFC. Lossa is 0-2, but his 100% takedown defense makes him a challenge for Fletcher. 
Key Stats For Fletcher vs Loosa 
Aside from Loosa's takedown defense, he's lower than Fletcher in every category. Fletcher is younger, gets hit less often,  and wins takedowns more often. Lossa has the reach advantage, but it's unclear if he knows how to use it. 
Fletcher vs Lossa Betting Odds 
Bet 
Odds 
Fletcher Money Line 
-164
Over 1.5, Under 1.5 Rounds 
-325, +230
Fletcher by Points 
+200
Expect the Fletcher decision win. He's a fighter on the come up, and Ange Lossa has a lot of missing parts to his game. Aside from being an athlete, Lossa will struggle in the UFC. Bet the Over if you're a Lossa fan. 
PLACE YOUR BETS NOW! 
Amir Albazi -425 vs Francisco Figueiredo +320
Albazi is undefeated in the UFC, while Figueiredo has already been bested by a superior wrestler. Both fighters are high quality submission fighters. 
Key Stats For Albaz vs Figueiredo  
Averaging 2 takedowns a piece per fight, these fighters have similar reaches and heights. Francisco struggles to land strikes, scoring only 1.98 per minute on average. 
 Albaz vs Figueiredo Betting Pick  
We're betting the over 1.5 rounds at -285. It pays out better than the Albazi money line, and since these fighters are both grapplers I expect them to neutralize one another, likely going to a decision. 
PLACE YOUR BETS NOW! 
Daniel da Silva +155 vs Victor Altamirano -200
Silva is 0-2 in the UFC, and has lost twice via finish. He's struggled to defend strikes, taking 7.36 per minute on average. Altamirano isn't much better off at 1-1, winning only his DWCS showing. 
Silva vs Altamirano Betting Pick   
Our pick is Altamirano's money line, but we're not brimming with confidence over it. Our main reasoning is Silva's grappling is in question. He was unable to defend the only takedown ever shot against him, and his 33% takedown offense is below the featherweight average. 
PLACE YOUR BETS NOW! 
UFC 278 Parlay Guide and Final Advice 
Our top Parlay picks include the Usman money line, the Albizi vs Figueiredo Over 1.5 rounds prop and the Pedro vs Hunsucker no decision prop. If you're looking for more MMA action, check our blog for more fights through the weekend. Scroll to see some of our top MMA betting sites!