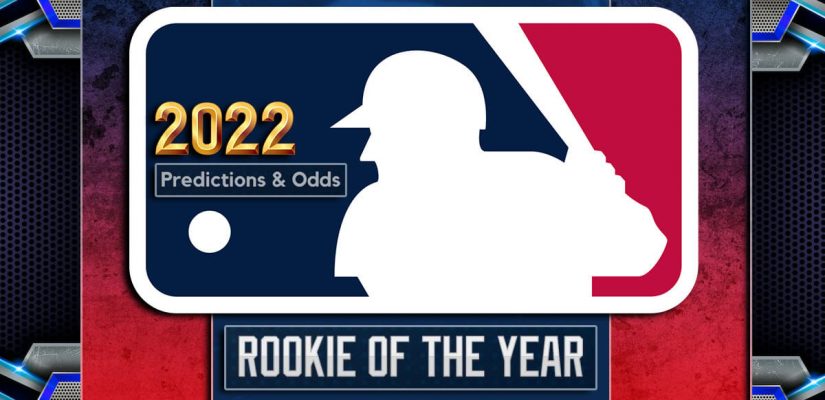 Rookie of the Year is typically one of the more unpredictable awards entering any MLB season. Unlike with most other major sports, top draft picks often toil away in the minor leagues for several years before getting their first action in the show.
With service time manipulation and other considerations in play, lots of teams don't feel too much urgency when it comes to promoting top prospects to the MLB level until they're ready. This has been a controversial topic in recent years, though some teams have finally started to see the light in that regard. There is an impressive crop of young talent in the majors right now, with several first-year players playing big roles for their respective teams. The MLB Rookie of the Year odds have changed quite a bit since we last discussed the best betting options back in May.
Who are the frontrunners and potential value bets to win MLB Rookie of the Year heading into August? MLB betting sites are always updating these odds, which should give you ample opportunity to find value down the stretch of the season.
2022 NL Rookie of the Year Odds
Player
Odds
Spencer Strider
+170
Michael Harris
+210
Seiya Suzuki
+1000
Oneil Cruz
+1100
Brendan Donovan
+2000
Nolan Gorman
+2000
Christopher Morel
+2000
MacKenzie Gore
+2200
Juan Yepez
+2500
Alek Thomas
+5000
Spencer Strider (+170)
The NL Cy Young Award odds have fluctuated wildly since May. In fact, two players that weren't even on the board a couple of months ago are now the favorites. Braves teammates Spencer Strider (+170) and Michael Harris (+210) are now playing huge roles for the reigning World Series champions.
Strider, who started the season in the bullpen, has seen his NL Rookie of the Year betting odds improve considerably since joining the rotation. In 21 games this season, including 10 starts, the Braves' fireballing right-hander is 4-3 with a 3.03 ERA. He's been putting up incredibly impressive strikeout totals, as his 37.9 percent K-rate would be the top mark in all of Major League Baseball among starters if he had enough innings to officially qualify.
Lowest slugging percentage allowed in 2022
(of 150 pitchers with 50+ innings pitched):
Spencer Strider, .266
Wil Crowe, .271 👀 👍 @WilCrowe15
Sandy Alcántara, .281
Shane McClanahan, .289
Wil's been so solid this [email protected] @rumbunter @PITPiratesChat @PitchingNinja pic.twitter.com/o0avHGTir5
— Codify (@CodifyBaseball) July 25, 2022
Strider has three double-digit strikeout games since entering Atlanta's rotation. If the playoffs started today, Brian Snitker would have no choice but to slot the 23-year-old into the team's starting rotation, which certainly wasn't necessarily expected at the beginning of the campaign.
We're still dealing with a fairly small sample of Strider's work as a starter, but the early results are incredibly encouraging. If he's able to keep it up, his NL Cy Young odds will only come down from here (+170).
Michael Harris (+210)
The Braves got Ronald Acuna Jr. back from his knee injury at the end of April, but other injuries and a couple of notable offseason departures left Atlanta a little thin in the outfield. Eddie Rosario went down early with an eye injury, while Jorge Soler and Joc Pederson left the team for greener pastures last winter.
Please Note:
All of that led to the promotion of youngster Michael Harris, who made his big-league debut for the Braves on May 28th. At this point, though, it's hard to imagine the Braves will decide to send the 21-year-old back to the minors. Harris has taken full advantage of the opportunity, and he's now Brian Snitker's everyday starting center fielder. In addition to Gold Glove-caliber defense at one of the most important positions on the field, Harris is slashing .288/.321/.489 with eight homers and 28 runs batted in through his first 51 MLB games.
The bat was always going to be the biggest question mark with regard to his ability to stick as a big-leaguer, but he'll have no problem keeping his job as long as he keeps hitting this well.
NL Rookie of the Year looks like a two person race.
2019 draftee Michael Harris II
2020 draftee Spencer Strider pic.twitter.com/A94FauETpd
— Gaurav (@gvedak) July 15, 2022
Position players tend to fare better in Rookie of the Year voting, as well. The Brewers' Devin Williams is the only NL pitcher to win the award since Jacob deGrom's triumph in 2014. If you exclude two-way phenom Shohei Ohtani, no full-time pitcher has won AL Rookie of the Year since Michael Fulmer in 2016.
As a result, Harris' +210 Rookie of the Year odds may be a bit more advantageous than Strider's current +170 number.
Seiya Suzuki (+1000)
The Cubs' Seiya Suzuki was actually the favorite with -105 Rookie of the Year odds at the time of our last update. Unfortunately, injuries have thrown a wrench into his case.
Chicago's first-year outfielder has only played in 57 of the team's 95 games, which makes him a tough sell as a legitimate candidate. He can still make his way back into the race if he stays healthy the rest of the way, but his numbers have taken a hit, as well. Suzuki is currently hitting .273/.354/.455 with seven homers and 28 runs batted in after a hot start.
SEE YAH BASEBALL SEIYA SUZUKI HAS THE CUBS UP A BILLION pic.twitter.com/fmTAZh4zAr
— DOM (@DOM_Frederic) July 23, 2022
The NL race isn't quite as top-heavy as the AL version, but I'll still have a hard time buying Suzuki as a legitimate candidate at the current +1000 Rookie of the Year odds. There's certainly upside there if he turns things around, but I'm not at all confident in his chances of beating out either of the Braves' new standouts at this point.
2022 AL Rookie of the Year Odds
Player
Odds
Julio Rodriguez
-380
Jeremy Pena
+650
Bobby Witt Jr.
+1200
Joe Ryan
+4000
Riley Greene
+4500
MJ Melendez
+7000
George Kirby
+7000
Shane Baz
+9000
Julio Rodriguez (-380)
The Mariners' Julio Rodriguez stole the show at the 2022 MLB All-Star Game. He went toe-to-toe with Juan Soto on his way to the final round of the Home Run Derby after dethroning the reigning two-time winner, Pete Alonso, in the semis.
Rodriguez was the only rookie named to either All-Star team, and rightfully so. After failing to hit a single home run until May 1st, the Mariners' star center fielder has taken off in a big way. J-Rod is hitting .293 with 16 homers, 12 stolen basis, and an on-base average north of .350 since the calendar flipped to May.
Growing up, we all wanted to be like our favorite players too, @JRODshow44 and @ronaldacunajr24. 😉 pic.twitter.com/0ZSUO5aOy9
— Cleveland Guardians (@CleGuardians) July 19, 2022
As of now, it's hard to imagine Rodriguez not winning this award this season. He's currently dealing with a wrist injury, but the Mariners don't believe it's serious.
Assuming Rodriguez stays healthy and continues to produce at a comparable level, he's going to win American League Rookie of the Year very easily later this fall.
That's no sure thing, but it's hard to justify betting on anybody else with much confidence at this point.
Jeremy Pena (+650)
Houston's Jeremy Pena was the +300 favorite in our last AL Rookie of the Year odds update, but he's fallen by the wayside amid Rodriguez's rise to the top.
Pena is still having an outstanding season in his first as the long-term replacement to Carlos Correa. The 24-year-old is slashing .261/.305/.452 with 14 homers and 36 runs driven in. Pena's defense has been outstanding at the most crucial defensive position on the infield, as well.
Jeremy Peña's catch as called on the Mariners TV broadcast. "Where'd Peña come from?" Dave Sims asked. pic.twitter.com/UIOiBLrgd0
— Adam Spolane (@AdamSpolane) July 23, 2022
Pena is eighth among all big-league shortstops in WAR (2.6), and third among American League players at the position. He's actually been better than Correa in just about every regard, which is far better than the Astros could've possibly expected when they declined to offer Correa a lucrative enough deal to bring him back last winter.
In most other years, Pena would be the frontrunner in AL Rookie of the Year odds. With Rodrigeuz having such a tremendous season of his own, however, Pena will likely have to settle for a second-place finish.
Bobby Witt Jr. (+1200)
Bobby Witt Jr. is another player that would likely be the favorite for this award if he happened to play for a National League outfit. As things stand, though, he's really an also-ran in the AL ROY conversation.
Witt's another youngster that got off to a ragged start, but we've seen glimpses of why he was ranked as baseball's top minor-league prospect entering 2022. He's tied with Pena in the home run department (14) with a slash line of .258/.301/.459 through 91 games.
Bobby Witt Jr #ExtraSwings pic.twitter.com/aQehjhyiMe
— John Peabody (@PeabodyHitDev) July 24, 2022
Since June 1st, however, his batting average is up to a much more respectable .284. He's hit eight of his homers and driven in 27 runs in his last 45 games, as well.
Witt's +1200 Rookie of the Year betting odds offer obvious upside if he can continue to progress, but J-Rod is just too far ahead of the field to make any of the alternatives look all that appealing from a futures betting standpoint.
Opening American League Rookie of the Year Odds
Player
Odds
Jeremy Pena
+300
Julio Rodriguez
+380
Joe Ryan
+650
Bobby Witt Jr.
+650
Spencer Torkelson
+1100
Steven Kwan
+1300
Adley Rutschman
+2000
George Kirby
+2500
Reid Detmers
+2500
Riley Greene
+4000
Josh Lowe
+5000
Shane Baz
+5000
Jeremy Pena (+300)
Jeremy Pena was one of the few AL rookies to enter the season with lofty expectations. The expectations came entirely because of the man Pena was scheduled to replace in Houston.
The Astros let Carlos Correa walk in free agency, in part, due to their belief that Pena was ready to step up and provide comparable contributions from the everyday shortstop spot. It's early, but that's looking like a shrewd move thus far. Pena is slashing .276/.339/.514 with six homers, 20 runs batted in, and 18 runs scored for the first-place Astros. He's also holding down that everyday shortstop post exceedingly well with the glove. Pena's six defensive runs saved leads all big-league shortstops, and he's tied for third overall in that category.
Carlos Correa on following the Astros. He said he told Jeremy Pena after the World Series he was likely going to take his place his year.
Carlos Correa on following the Astros. He said he told Jeremy Pena after the World Series he was likely going to take his place his year. pic.twitter.com/ujrVu3XFd2
— Brian McTaggart (@brianmctaggart) May 10, 2022
Correa, meanwhile, is currently on the injured list with worse offensive numbers across the board through 24 games for the Twins.
Whether Pena will be able to keep it up is the question.
He's a deserving +300 favorite in 2022 AL Rookie of the Year odds, though he does have a talented field of contenders on his tail.
Julio Rodriguez (+380)
MLB.com has Seattle's Julio Rodriguez ranked as its No. 3 prospect in the sport behind only Kansas City's Bobby Witt Jr. and Baltimore's Adley Rutschman. The Mariners promoted Rodriguez to the majors at the end of spring training to much fanfare, but the first-year slugger hasn't enjoyed as much success as Pena has just yet.
Please Note:
Through his first 34 big-league games, Rodriguez is hitting .264/.328/.368. His home run on Sunday in New York was just his second of the season, but he is tied for the big-league lead with 10 stolen bases already. Given his career .331 batting average at the minor league level, though, it's likely just a matter of time until his bat comes around against big-league pitching.
The Mariners believe Rodriguez has superstar potential, but it will likely take a bit of time for the 21-year-old to fully realize it. His tools alone are enough to make him a compelling bet to overtake Pena, which makes Rodriguez's current +380 MLB Rookie of the Year odds look rather compelling.
Joe Ryan (+650)
Unlike Pena and Rodriguez, Joe Ryan entered the 2022 season with some major league experience under his belt. Ryan got the call to join the Twins last September. In 26.2 innings of work across five starts for Minnesota last year, the young right-hander went 2-1 with a decent 4.05 ERA.
Ryan came to the Twins in the trade that sent veteran slugger Nelson Cruz to Tampa Bay ahead of last year's deadline. He's been even more impressive so far this season. In his first seven starts of '22, Ryan is 4-2 with a tidy 2.39 ERA.
Ryan's control (6.8 percent walks) is very impressive for a 25-year-old, and he posted a career strikeout rate well north of 30 percent in the minors. That hasn't yet fully translated to the top level (26.5 percent), but the Ks will come. Ryan earned an Opening Day start to begin his first full major league season.
Which tells you all you need to know about how excited the Twins are about his future.
A full-time pitcher hasn't won AL Rookie of the Year since Michael Fulmer did so for the Tigers back in 2016. As you can see in his +650 MLB ROTY odds, Ryan is the best bet to do the same this year.
Bobby Witt Jr. (+650)
Eventually, the Royals think Bobby Witt Jr. will become the face of the franchise. This team is firmly in rebuilding mode, so it would have made no sense to keep the 21-year-old stuck in the minors to begin the year. The Royals put Witt on their Opening Day roster as the everyday starting third baseman to begin the campaign.
So far, the youngster is still a work-in-progress. Witt is slashing an underwhelming .217/.254/.375. He hit his second and third homers of the year on back-to-back days over the weekend in Colorado, and he has added five stolen bases to his ledger.
Back-to-back games with home runs for @BwittJr!#TogetherRoyal pic.twitter.com/Xyjw7rAnCd
— Kansas City Royals (@Royals) May 15, 2022
Witt's defense at third base has been solid, and the team fully expects him to eventually slide over to his natural shortstop spot. The issue with his +650 MLB Rookie of the Year odds is that he's firmly behind the likes of Pena, Rodriguez, and Ryan in the early-season race.
Please Note:
If you bet on Witt to eventually win this award, you're essentially banking on his long-term potential coming to fruition as the 2022 season progresses.
As of now, there is just a lot more value in betting on Pena at +300 than there is on Witt at +650. Witt hasn't looked quite ready for big-league pitching just yet, while Pena's transition has been surprisingly seamless. Witt's Royals will be lucky to finish outside of the basement in the lowly AL Central, which won't help his hopes.
Steven Kwan (+1300)
Steven Kwan may well have won AL Rookie of the Year if they had voted on the award after the first week of the season. Kwan, who made his MLB debut for the Guardians on Opening Day, went on to become just the sixth player over the last 120 years to have a five-hit game within his first three big-league appearances.
Kwan also reached base safely 15 times across four games, and he didn't register his first swing-and-miss until he saw his 116th pitch of the year. That was the longest any hitter has gone without a single whiff to begin a career since 2000. Kwan recorded his first MLB hit off of Scott Barlow on Opening Day before slugging his first career homer off of Jose Berrios in early May.
Kwan still has solid overall numbers, with a slash line of .281/.377/.396 with 19 runs scored. At this stage of his career, he's more of a slap hitter than a slugger, however. 19 of his 27 hits so far this season are singles, and he's only knocked in 13 runs.
The Kwan enthusiasm seems to have waned since his torrid start, and with good reason. He'll be a good, solid hitter at this level, but I'm not sure it'll be enough to win this award in a very talented 2022 field. Fade Kwan's +1300 MLB Rookie of the Year odds, for now.
Who Will Win AL Rookie of the Year?
As of May 16th, AL Rookie of the Year is likely Pena's to lose. Holding down the fort as the unquestioned starting shortstop on arguably the best team in the American League can only help his chances, frankly.
Please Note:
Pena has been out of the lineup for the past few days as a result of knee soreness, but the Astros don't seem to believe it's something that will require an injured list stay. If he can stay largely healthy, Pena's +300 2022 MLB Rookie of the Year odds will likely continue to dip as the season moves forward.
Here's how I'll rank the best value bets for AL Rookie of the Year:
Opening National League Rookie of the Year Odds
Players
Odds
Seiya Suzuki
-105
MacKenzie Gore
+400
Juan Yepez
+900
Alek Thomas
+2500
Max Meyer
+2500
Nick Lodolo
+3000
Hunter Greene
+3000
Nolan Gorman
+3500
CJ Abrams
+4000
Seth Beer
+4000
Joey Bart
+5000
Bryson Stott
+6000
Seiya Suzuki (-105)
Needless to say, the field of NL Rookie of the Year hopefuls isn't quite as decorated as that on the American League side. The Cubs' Seiya Suzuki is actually an odds-on favorite at -105, per the latest MLB Rookie of the Year odds. MacKenzie Gore of the Padres sits second at a relatively distant +400.
Many of the others with listed odds aren't even in the majors right now.
The Cubs signed Suzuki to a lucrative $75 million deal this winter, which looks like money well spent. The 27-year-old is hitting .257/.367/.475 with four homers, 16 RBI, and 14 runs scored through his first 31 MLB games.
Hang this picture of Seiya Suzuki in the louvre pic.twitter.com/qKbnW7GLHF
— Cubs Zone ™️ (@CubsZone) May 16, 2022
Unfortunately, Suzuki has struggled of late since getting off to a blazing start. He hit .279 with all four homers and 14 of his runs driven in in April. Through 33 at-bats so far in May, the Japanese superstar is hitting just .212/.278/.364 with a couple of RBI. Suzuki does have a couple of doubles over his last four games, so perhaps he's finding his way out of his slump.
Most players struggle early after getting to the majors, so Suzuki's recent slide isn't a massive surprise.
He's still a heavy NL Rookie of the Year betting favorite, thanks mostly to a lack of competition. That could change as the season moves forward, but it's hard not to like his chances of winning it as of now. The issue is you aren't getting much upside in those -105 MLB Rookie of the Year odds.
MacKenzie Gore (+400)
The Padres' front office has worked tirelessly to improve the roster over the past few years, yet their best starting pitcher might be a rookie right now. MacKenzie Gore, who was previously one of the top pitching prospects in all of baseball, is showing us why that was the case.
Through his first five MLB appearances, the left-hander is 2-1 with a 2.42 ERA. The strikeout stuff is there (26.4 percent), though he has had some control issues (8.5 percent walks). Gore posted double-digit walk rates at both Double-A and Triple-A last season, so we'll see whether he can rein in that control moving forward. Based on his excellent early results, there is no reason to think Gore will be heading back down to the minors any time soon. Given the issues with injuries and inconsistency elsewhere in San Diego's rotation, they probably can't afford to take Gore out of the mix, which should only improve his Rookie of the Year stock.
If you want a little more upside than you'll find with Suzuki, Gore is a perfectly fine alternative at the +400 2022 MLB Rookie of the Year odds. Jacob deGrom (2014) was the last starting pitcher to claim NL Rookie of the Year honors, but Gore is a good value to do the same this summer.
Juan Yepez (+900)
The Cardinals' Juan Yepez has a total of 46 major-league plate appearances under his belt, yet oddsmakers have apparently seen enough to put him among the NL Rookie of the Year frontrunners. Yepez checks in as the third-favorite for the award at +900.
Yepez slugged nine home runs in just 93 plate appearances down at Triple-A, which led to the Cardinals' decision to give him a well-earned promotion. So far, he's living up to expectations. The beefy outfielder is hitting .366/.435/.585 in those 46 trips to the plate with a couple of homers and seven runs scored.
Juan Yepez was 3 years old when Albert Pujols debuted in 2001. Yepez just drove in Pujols w/ his first career HR.
Juan Yepez was 3 years old when Albert Pujols debuted in 2001.
Yepez just drove in Pujols w/ his first career HR.
Baseball. #STLCards
— Ryan (@The_Ryan_Shull) May 8, 2022
Yepez wasn't much of a prospect before his 2021 breakout. He smashed 27 homers between Double-A and Triple-A, which sent him flying up the boards as one of the Cardinals' top hitting prospects.
Yepez also improved his contact rate considerably after making an adjustment to his swing, so he offers the rare combination of plus contact and plus power. That should be enough to help him stick around with the Cardinals in the long term. He won't hit .366 all year, but he won't have to in order to cement himself as a legit NL MVP frontrunner.
Yepez is so new on the scene that his odds haven't yet caught up with his realistic chances of winning the award. I would be all over Yepez at the current +900 MLB Rookie of the Year odds. They won't be this profitable for much longer.
Alek Thomas (+2500)
Alek Thomas has even less experience than Yepez, with a total of 20 plate appearances in the majors since getting the call-up last week.
Thomas homered in just his fourth game in the big leagues, and he's hitting .368/.400/.684 thus far.
In 4 games with the #Dbacks, Alek Thomas has already accumulated 0.5 WAR.
5 for 13
2 doubles, 1 HR, 3 RBI
.385/.385/.769
1.154 OPS
70% hard hit %
87th % sprint speed
— D-backs facts & stats (@dbaxfax) May 12, 2022
Much like Yepez, a rather scant field of contenders is to blame for Thomas' status as one of the early NL Rookie of the Year favorites, though his +2500 odds are still fairly distant.
Thomas is Arizona's top-ranked prospect, so perhaps his early success is no blip on the radar.
At this point, why not take a stab at Thomas at +2500? He's no guarantee to stick with the D-Backs all year long, but he will if he continues to hit.
Oneil Cruz (+2500)
Oneil Cruz got the call for a cup of coffee in the majors with the Pirates toward the end of last season. The 23-year-old hit a homer and collected three RBI in just nine plate appearances toward the tail-end of last year, but he failed to make the big-league roster earlier this spring.
So, Cruz is still at +2500 to win NL Rookie of the Year despite the fact that he hasn't set foot in a major league field yet this season. Through 30 games at Triple-A, he's hitting just .185/.302/.328 with three home runs. Cruz is still the third-ranked prospect in the Pirates' talented system, but a ragged start at the plate won't make that promotion come any sooner.
Unless Cruz gets it together in short order, it's hard to imagine the Dominican outfielder mounting a legitimate charge for this award this season.
Who Will Win NL Rookie of the Year?
As you can see, we're working with a very limited group of contenders in the junior circuit. Suzuki is a worthy favorite, but Yepez (+900), Thomas (+2500), and Gore (+400) do offer plenty of value themselves.
As of now, I'm inclined to pass on Suzuki at minus-money.
He would win the award if the voting were held today, but there are still four months left in the season. Yepez currently looks like the best combination of value and upside, followed by Gore and Thomas.
PLACE YOUR BETS NOW!