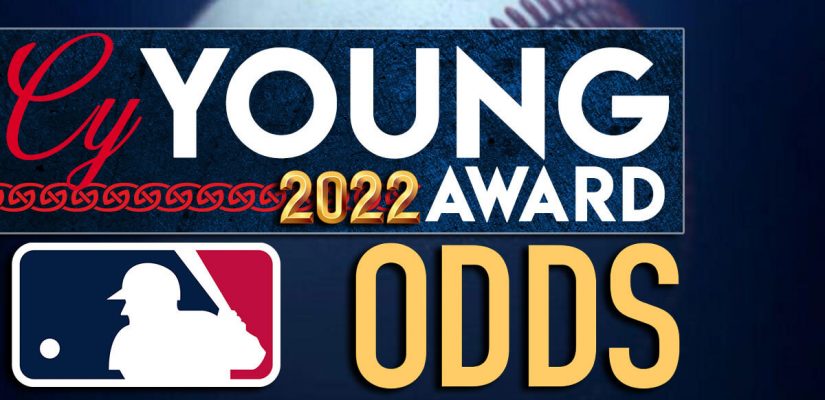 We're a little past the halfway point of the 2022 MLB campaign. While a handful of teams have built what seem to be insurmountable division leads, several others will have to scratch and claw their way all the way into October.
Thanks to the expanded playoff format, the pennant chases in both leagues should be quite compelling over the next couple of monthsThe calendar flipping to August early next week means pitchers around the league have about two months left to build their Cy Young Award cases. Needless to say, the Cy Young odds have changed quite a bit since our most recent update in the middle of May. We suddenly have an odds-on favorite on the National League side, while there are a couple of clear betting frontrunners over in the American League.
How should you bet on the Cy Young races in both leagues with the MLB regular season heading into its penultimate month? As usual, MLB betting sites have you covered with up-to-date Cy Young odds in both leagues.
2022 National League Cy Young Odds
Player
Odds
Corbin Burnes
+550
Tony Gonsolin
+1200
Joe Musgrove
+1300
Max Fried
+1400
Carlos Rodon
+2000
Zack Wheeler
+2500
Aaron Nola
+4000
Max Scherzer
+4000
Clayton Kershaw
+6000
Logan Webb ()
+7500
Spencer Strider
+9000
Sandy Alcantara (-130)
You won't often see one pitcher this far ahead of the field this early in the year, but it's hard to knock Sandy Alcantara's -130 NL Cy Young odds. The Marlins' right-hander just keeps going out there every fifth day and dominating.
On the year, the 26-year-old is 9-4 with a 1.81 ERA.
He struck out 10 Pirates and allowed a couple of runs in six outstanding innings on Sunday afternoon in Pittsburgh. Alcantara's ERA is remarkably down at just 1.24 over the course of four outings in July. He's yielded two earned runs or less in 14 of his 15 starts dating back to May 6th.
Sandy Alcántara, K'ing the Side in the 1st.
Just Ridiculous stuff. pic.twitter.com/GT78p7thhT
— Rob Friedman (@PitchingNinja) July 24, 2022
Can he keep it up? That's debatable. His estimators (2.61 xERA, 3.28 xFIP, 3.38 SIERA) all suggest his aforementioned 1.81 ERA is quite lucky. Alcantara is due for some regression moving forward, but his combination of strikeouts (24.3 percent) and groundballs (56.5 percent) makes him an incredibly imposing foe for hitters.
Alcantara had +3000 NL Cy Young odds in our last update in May, so here's hoping you were able to jump on the bandwagon back then. Nobody saw this kind of a season coming, but he's still not home-free just yet.
Corbin Burnes (+550)
Last year's NL Cy Young winner was at +400 in our last update. Alcantara's rapid rise up the odds board has Burnes down slightly to +550, as of now. Through 19 starts on the year, the Brewers' right-hander is 7-4 with a 2.20 ERA. He ranks third in the majors in strikeouts (149) despite the fact that he's just 10th in innings pitched (118.2) so far in 2022.
Burnes' ERA is lower than the 2.43 mark he posted on his way to winning this award last year, but most of his other numbers have declined a bit. The strikeouts are down slightly, while the walks are up slightly. Burnes has also allowed 13 homers already this season after he was taken deep a mere seven times in '21.
Corbin Burnes, Dirty 82mph Curveball…and Sword. ⚔️ pic.twitter.com/rwiuPjmQsN
— Rob Friedman (@PitchingNinja) July 23, 2022
If Alcantara falters, Burnes is the natural choice to overtake him in the NL Cy Young race. Alcantara is well ahead of the field right now, though, which makes Burnes something of an afterthought. Frankly, I'm not at all a fan of Burnes' current +550 Cy Young odds, especially given the way a few of the other contenders look a little undervalued by oddsmakers.
Joe Musgrove (+1300)
If there's one guy out there capable of upending the NL Cy Young Award odds, it's the Padres' Joe Musgrove. San Diego's hometown hero made his first All-Star appearance last week, and he's become the headliner of the Padres' star-studded starting rotation.
In 17 outings on the year, the 29-year-old is 8-3 with a 2.63 ERA.
He's not quite as dominant as Burnes in the strikeouts department (24.4 percent), but Ks aren't everything. Musgrove has allowed just 32 earned runs through 109.1 innings, which is the fourth-fewest in the NL among qualified starters. Only Alcantara, Burnes, and Julio Urias have been stingier thus far.
Enjoy Joe Musgrove striking out Aaron Judge to finish off a scoreless inning in the All-Star Game! pic.twitter.com/ujXXlF5Xxg
— Talking Friars (@TalkingFriars) July 20, 2022
Whether Musgrove can keep it up remains to be seen, however. He's been steadily improving year over year, but he has endured a few rough outings lately. Musgrove has been tagged for nine earned runs in 10.1 innings over his last two starts by the Rockies and Mets, respectively.
Musgrove got off to a stellar start last season before he faltered down the stretch, posting a 5.14 ERA over the course of five outings last September.
That said, his current +1300 Cy Young betting odds don't really do justice to how well he's been pitching all season long. Alcantara is a worthy favorite, but I'm not sure he should be this far ahead of the rest of the pack.
2022 American League Cy Young Odds
Player
Odds
Shane McClanahan
+160
Justin Verlander
+275
Shohei Ohtani
+1000
Dylan Cease
+1000
Gerrit Cole
+1400
Alek Manoah
+1600
Kevin Gausman
+2000
Logan Gilbert
+3000
Nestor Cortes
+3500
Shane Bieber
+4000
Framber Valdez
+6000
Shane McClanahan (+160)
Here's what I wrote about Rays lefty Shane McClanahan back in May when we last updated the MLB Cy Young odds:
McClanahan's numbers stack up well against those of his fellow contenders, so why is he listed with such long AL Cy Young odds at +2500? Who knows?
Well, hopefully, you took advantage of McClanahan's weirdly long +2500 AL Cy Young odds back then. Now, he's the +160 favorite to win the award. Dusty Baker tapped the southpaw to start the All-Star Game for the American League, and with good reason.
American League manager Dusty Baker on American League starter Shane McClanahan: "I've never seen him pitch."
— Jeff Passan (@JeffPassan) July 18, 2022
McClanahan is 10-3 with a ridiculous 1.71 ERA so far this season. His 35.7 percent K-rate is among the highest in all of baseball among starters, and he keeps the ball on the ground at a clip nearing 51 percent, for good measure. Alcantara is drawing lots of headlines for his exploits, but you can argue McClanahan has been even better, all things considered.
McClanahan is the new frontrunner, but his Cy Young odds aren't quite as favorable as Alcantara's because of the quality of competition in the American League race. Alcantara really stands alone at the top over in the NL, but you can make compelling cases for some of McClanahan's AL rivals, too.
Still, the +160 Cy Young betting odds for McClanahan still offer plenty of upside.
Justin Verlander (+275)
If McClanahan wouldn't win the award today, Justin Verlander almost certainly would. Verlander is pitching his first full season for the Astros since 2019, when he last won the AL Cy Young Award. He started just a couple of games in 2020 before undergoing Tommy John surgery, which kept him sidelined for all of 2021.
Despite such a long absence, the 39-year-old looks no worse for the wear. He struck out nine Mariners while yielding just a run on four hits in seven tremendous innings in Seattle over the weekend. Verlander has now won each of his last five starts overall, and he currently leads all pitchers with 13 victories on the season.
Justin Verlander, Knee-buckling 80mph Curveball. 🦵 pic.twitter.com/ETViNTBpG1
— Rob Friedman (@PitchingNinja) July 23, 2022
Through three outings in July, Verlander is 3-0 with an impeccable 0.95 ERA. He's got 10 more strikeouts than hits allowed, with just two earned runs conceded in that span. While he may not be the same high-strikeouts pitcher he was before the injury, it's quite hard to argue with a 1.86 ERA for the full season.
The Astros are also hurtling toward yet another AL West title, and they're right on the heels of the rival Yankees for the best record in the American League. If Houston eventually overtakes New York in that race, Verlander could easily do the same to McClanahan in the AL Cy Young derby. I would be all over JV's current +275 Cy Young odds.
Shohei Ohtani (+1000)
It's incredible that we're even talking about Shohei Ohtani as an AL Cy Young candidate, but it's justified. He won the AL MVP Award last year after slugging 46 home runs. So far this year, however, the Angels' phenom has been better on the mound than he's been at the dish.
Ohtani yielded six runs to the Braves in his most recent outing after the All-Star break, but he also whiffed 11 in that game. Ohtani has now racked up at least 10 Ks in each of his last five starts, which is the longest active streak in Major League Baseball. For the year, the 28-year-old is 9-5 with a tidy 2.80 ERA across 16 pitching appearances.
Angels have lost 14 of last 15 games when Shohei Ohtani is NOT their starting pitcher.
They are 13-32 since June 1 (worst in MLB) pic.twitter.com/o0oBqNb2Ih
— CBS Sports (@CBSSports) July 25, 2022
Ohtani is again in the mix to win MVP, but he will have a hard time overtaking either McClanahan or Verlander in the Cy Young competition. His ERA is almost a full run higher, and the Angels' status as a bottom-feeder in the standings likely won't help his cause.
Please Note:
It's still hard not to be impressed by what he does on the mound every fifth day, however. Between June 16th and July 6th, Ohtani didn't allow a single earned run across 26.2 innings, which is one of the longest scoreless streaks we've seen from any pitcher all year long.
He went 4-1 with a 1.52 ERA in June, as well. Ohtani's +1000 AL Cy Young odds do offer some upside, but he's still well behind the two favorites, as of now.
2022 AL Cy Young Award Odds
Player
Odds
Justin Verlander
+600
Kevin Gausman
+600
Gerrit Cole
+600
Shohei Ohtani
+600
Dylan Cease
+700
Logan Gilbert
+800
Shane Bieber
+800
Alek Manoah
+1400
Joe Ryan
+2000
Nestor Cortes
+2000
Noah Syndergaard
+2000
Shane McClanahan
+2500
Michael Kopech
+2500
Justin Verlander (+600)
Justin Verlander is no stranger to the AL Cy Young Award. The future Hall-of-Famer has won it twice in his career, most recently in 2019. 2019 was also his last full season, unfortunately. He injured his elbow early in the shortened 2020 season, which required Tommy John surgery. That kept him sidelined for all of last year, though he has looked no worse for the wear through the first month of 2022.
Through six starts, the Astros right-hander is 4-1 with a tidy 1.55 ERA.
His 3.12 SIERA suggests some regression is likely due on that ERA, but that was always going to be the case. JV's strikeout rate (25.4 percent) isn't what it was pre-injury, but there are a number of factors in play there. He's 39 and coming off of a major injury. The league also cracked down on pitchers using sticky stuff on the baseballs last year while Verlander was away. In his last full campaign, his K-rate was up at a ridiculous 35.4 percent.
For the 8th time in his career, Justin Verlander took a no-hit bid into the 8th inning 🔥 @astros get the 5-0 W pic.twitter.com/aUhV6jQ7sE
— FOX Sports: MLB (@MLBONFOX) May 11, 2022
Even without quite as much strikeout stuff, Verlander looks dominant again in '22. If he can stay healthy and continues to win games at a healthy clip – which should be no problem as the headliner of the mighty Astros' rotation – Verlander will be in the race all summer long. Taking a stab at Verlander's current +600 Cy Young Award odds makes plenty of sense.
Kevin Gausman (+600)
The Blue Jays let Ray walk to Seattle this offseason, only to replace him with ex-Giants right-hander Kevin Gausman. Based on the early-season results, the Blue Jays knew what they were doing. While Ray struggles to find his footing with the Mariners, Gausman looks like one of the most dominant pitchers in all of baseball.
Through six starts with Toronto, Gausman is 3-1 with a 2.13 ERA. Unlike Verlander, however, Gausman's SIERA (2.12) says he's deserving of that tiny ERA. Gausman has whiffed a whopping 31.3 percent of hitters he's faced, with a minuscule walk rate of just 0.7 percent. He has struck out 46 while issuing just one free pass through six games. The 31-year-old was tremendous last year in San Francisco, but he seems to have leveled up again this season. His velocity numbers are up across the board, and he looks fully capable of putting up impressive numbers despite the difficult opposition he'll face in the AL East.
The 17-15 Blue Jays haven't been quite as unstoppable as many expected coming into the year, but Gausman certainly looks the part. Verlander has the name recognition, but I slightly prefer Gausman at the same +600 Cy Young odds, as of now.
Shohei Ohtani (+600)
The fact that we're even discussing Shohei Ohtani in the Cy Young race is fairly incredible. The reigning league MVP slugged 46 home runs a season ago, yet here he is, tied with Verlander, Gausman, and Gerrit Cole for the best Cy Young Award odds in the American League (+600).
Please Note:
Ohtani's exploits at the plate have no bearing on his Cy Young candidacy, and he belongs in this conversation based solely on his pitching numbers.
Through six outings on the season, the right-hander is 3-2 with a 2.78 ERA. His 35.4 percent strikeout rate is the fourth-best in the majors behind Carlos Rodon, Shane McClanahan, and Dylan Cease. Uh-oh, Ohtani is getting better!
Uh-oh, Ohtani is getting better!
(MLBStats x @Googlecloud) pic.twitter.com/v9aG6EFNFU
— MLB Stats (@MLBStats) May 11, 2022
Most importantly, Ohtani has reined in the control issues that plagued him earlier in his career.
The 27-year-old phenom has a career 9.1 percent walk rate at the big-league level, but so far this season, his BB% sits at just 5.4 percent. If this version of Ohtani is the one the Angels will have on the mound all season long, we have to start taking this team seriously as a World Series contender. And, we'll have to take Ohtani seriously as an AL Cy Young frontrunner.
Assuming he makes enough starts to qualify, why can't he win this award, too?
Dylan Cease (+700)
Dylan Cease posted one of the wildest stat lines we've seen all year on Thursday night against the Yankees. The right-hander was touched up for six runs on six hits, including a couple of home runs, in an eventual 15-7 setback. However, Cease also struck out 11 hitters in just four innings of work. It was easily Cease's worst outing of the young season, but I'm sure a lot of pitchers would kill to strike out 11 in a "bad" start.
Even the best pitchers in the league take their lumps every now and then. Through seven games, the 26-year-old is 3-1 with a 3.55 ERA, but his 2.51 SIERA says his ERA is a little on the unlucky side. Cease owns the third-best K-rate in the majors at 36.9 percent. Like Ohtani, he has also fixed some of the control problems that gave him headaches in previous seasons, which has helped him take a big step forward so far in '22.
Thursday's game was just the second time in seven starts that Cease yielded more than two runs. He has easily been the White Sox' most reliable arm early in the year. Chicago has been another relative disappointment at just 15-15, but they should get back on track sooner or later. I'd sooner bet on Verlander, Gausman, or Ohtani at +600 than Cease at +700, but don't be surprised if he makes a run at this award this season.
Shane McClanahan (+2500)
I'm not sure why there is such a big gap between Shane McClanahan and the frontrunners in the AL Cy Young odds, as of now. The Rays' ace is listed at just +2500 despite having posted similar numbers to the likes of Ohtani, Gausman, and Cease. Perhaps pitching for the small-market Rays is costing him in terms of recognition.
Through his first seven starts of the year, the second-year lefty is 2-2 with a 2.52 ERA. He likely won't rack up many wins given Kevin Cash's liberal use of his bullpen, but the rest of the numbers should be there.
Only Rodon has a higher strikeout rate than McClanahan's 38.2 percent mark on the year. His control numbers (6.6 percent walks) are also impressive, especially for a hurler with such limited major league experience. McClanahan's 1.84 SIERA is actually the best in the entire sport among starters, and he's the only pitcher whose SIERA sits south of 2.00.
He won't get the win but Shane McClanahan SHOVED today pic.twitter.com/K8Q1K1sPEe
— Talkin' Baseball (@TalkinBaseball_) May 12, 2022
McClanahan has struck out 11 hitters in two of his last three starts, including a particularly impressive effort earlier this week against the aforementioned Angels.
McClanahan's numbers stack up well against those of his fellow contenders, so why is he listed with such long AL Cy Young odds at +2500? Who knows?
Regardless, you can take advantage of the oddsmakers' skepticism and hop on the bandwagon while the odds are still too long.
Who Will Win AL Cy Young?
With no clear-cut favorite as of now, there is plenty of upside in the current 2022 Cy Young Award odds everywhere you look. McClanahan is a very obvious value at +2500, and I can't imagine his odds will be this long for much longer. Eventually, those in charge of setting the Cy Young odds will take note and adjust accordingly.
Pounce now before it's too late.
Otherwise, Ohtani, Gausman, and Verlander are all outstanding options at +600 apiece. I'm a bit less enthused by Cease at a similar +700 number, but a Cy Young Award may well be in his future at some point, too.
I will rank the best value bets to win AL Cy Young this season below:
2022 NL Cy Young Award Odds
Players
Odds
Corbin Burnes
+400
Max Scherzer
+500
Walker Buehler
+500
Carlos Rodon
+800
Clayton Kershaw
+800
Pablo Lopez
+1400
Joe Musgrove
+1800
Aaron Nola
+2000
Brandon Woodruff
+2500
Kyle Wright
+2500
Max Fried
+2500
Zac Gallen
+2500
Zack Wheeler
+2500
Sandy Alcantara
+3000
Julio Urias
+4000
Logan Webb
+4000
Corbin Burnes (+400)
Corbin Burnes has the best Cy Young odds of any player in the sport at +400 to take home the NL prize for a second straight year. Burnes ultimately beat deGrom to win it last year, and he has picked up right where he left off.
Through his first six outings of 2022, Burnes is just 1-2, but with an impressive 1.86 ERA. That's a hard-luck 1-2 record, to be sure. Burnes' 2.27 SIERA says his ERA is fairly legitimate, and he's still striking everybody out (34.2 percent). He led the big leagues in K-rate last season (35.6 percent), so that's hardly a shocking development. Elite control, strong groundball stuff, and the ability to limit damage means Burnes checks literally every box when it comes to being a top-of-the-rotation ace.
The Brewers look like a legit threat to the Dodgers in the NL pennant race, as well, thanks, in no small part, to Burnes' contributions. If the voting were held today, Burnes would likely win NL Cy Young again. There's still a long way to go, but the current +400 Cy Young odds are still very favorable.
Max Scherzer (+500)
Max Scherzer will probably start to show signs of aging someday, but that day has not yet arrived. The Mets made Scherzer the highest-paid pitcher in MLB history in terms of average annual earnings this past winter, and he's made that look like a wise investment thus far.
Max Scherzer fires back at Noah Syndergaard after IG story saying #Mets no-no wasn't "real" 👀 pic.twitter.com/2Pv2RBjJOQ
— FAX Sports: MLB  (@MLBONFAX) May 11, 2022
Through six games, Mad Max is 4-1 with a 2.92 ERA. The strikeout stuff (34.3 percent) is as good as ever, though he has already allowed five home runs.
Of course, a flyball pitcher with a wide platoon split will always be susceptible to some lefty power, but he has otherwise done a fine job of keeping his opponents off the scoreboard early in his first year in New York. Scherzer's dominance has helped the Mets get off to a stellar 22-11 start, which puts them 6.5 games ahead of the Braves and Phillies atop the NL East.
We know awards voters won't ever shy away from rewarding a player like this on a team in the biggest media market of all, either. The three-time Cy Young winner is a good bet to make it four at +500.
Carlos Rodon (+800)
By many measures, Carlos Rodon has been the best pitcher in the National League this season. The first-year Giant leads the majors with a 39.3 percent strikeout rate along with an incredibly impressive 1.80 ERA. His 2.22 SIERA and 2.35 xFIP suggest that ERA is deserved, as well.
Control (8.9 percent walks) has been a minor issue for him, but we've seen plenty of other pitchers around the league struggling in that department early on. Rodon has only allowed three barreled balls out of a total of 69 batted-ball events, which is also among the lowest in the league for a starter. Let's not forget Rodon was squarely in the hunt for the AL Cy Young Award last year with the White Sox before injuries got in the way. Unfortunately, that's been a theme of Rodon's entire career. He hasn't made more than 24 starts in a season since 2016. He is utterly dominant when healthy, but he just has not been healthy nearly enough to garner much awards recognition.
Could that change this year? Hopefully. The Giants should once again make a real push for a National League postseason spot, and Rodon is clearly among the game's elite starters. If he can avoid a major injury, his +800 NL Cy Young odds look a little too low.
Clayton Kershaw (+800)
Clayton Kershaw hasn't been in his prime for quite a while now, but he is still one of the most reliable starters in all of baseball. The 34-year-old is off to a stellar start this season, with a record of 4-0 through five starts and a 1.80 ERA. Walker Buehler has the best Cy Young odds of any Dodger (+500), but Kershaw is still the actual ace of this starting staff.
Please Note:
Kershaw's strikeout rate has consistently remained north of 28 percent over the last three years despite the fact that his fastball typically tops out around 91 miles an hour.
His slider and curveball are still as elite as they come, which makes the fastball appear faster than it really is. Kershaw still keeps most batted balls on the ground (49 percent), and he hasn't posted a walk rate north of six percent since 2012. He's ridiculous.
Today was the 63rd time in his career Clayton Kershaw has gone at least 7 innings without allowing a run
His ERA on the season is now 1.80 and his 0.73 WHIP is the best in the National League pic.twitter.com/ewLneqhDd5
— Blake Harris (@BlakeHarrisTBLA) May 7, 2022
The Dodgers have been the stingiest pitching staff in baseball, and Kershaw has played a major role. Whether he can keep it up remains to be seen, but the veteran certainly belongs in the NL Cy Young conversation through the first month of the campaign. I'm not thrilled to get him at +800 2022 Cy Young odds, but he's firmly in play, for now.
Zack Wheeler (+2500)
Zack Wheeler got off to a slow start thanks to some offseason issues. He started to feel some soreness in his pitching shoulder back in December, which interrupted his offseason throwing program. That issue certainly wasn't helped at all by the lockout, which kept Wheeler from getting the necessary treatment for the injury.
A 1-3 record and a 4.26 ERA through six starts certainly isn't Cy Young material.
However, he does seem to be improving with each passing start. His fastball was sitting around 98 in Thursday's outing against the Dodgers, which is a welcome sight for the Phillies after his velo was down through his first few starts.
Zack Wheeler, 98mph Fastball (foul) and 91mph Slider (swinging K), Overlay. pic.twitter.com/TqR3n4fEnH
— Rob Friedman (@PitchingNinja) May 13, 2022
Let's not forget he was squarely in the running for NL Cy Young last year, when he posted a career-best 29.1 percent strikeout rate and led the junior circuit in innings pitched (213.1).
There aren't many bona fide workhorse starters in the game these days, but Wheeler is one of the few. This is just a case of a pitcher being mispriced at +2500 Cy Young odds.
He finished as the runner-up to Burnes last year, and I think his numbers will continue to improve as the season progresses.
Who Will Win NL Cy Young?
If you want value, Wheeler at +2500 is the guy that really stands out. I think the Phillies are good enough to make a playoff push, and I'm optimistic that Wheeler will continue to rebound from a less-than-stellar start.
If he does, his aforementioned 2022 Cy Young odds are much longer than they should be.
Kershaw (+800) and Scherzer (+500) are the elder statesmen here. Both are still great, but will they keep it up all year long? It's likely, but not a certainty. Burnes (+400) is easily the safest bet of the bunch, while Rodon (+800) offers nice upside despite his obvious injury risk.
PLACE YOUR BETS NOW!