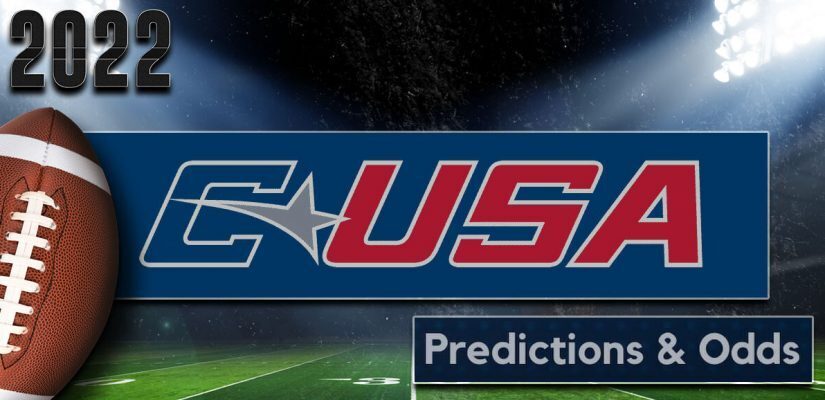 The UTSA Roadrunners had the best season in the history of the program as they took a 49-41 win over Western Kentucky in the CUSA title game before a 38-24 loss to solid San Diego State in the Frisco Bowl.
UTSA and UAB will be back in the mix for the CUSA championship this season.
The Roadrunners (+240) host the Houston Cougars on the first weekend of the season as that will give a picture of where the program is standing at the beginning of the season.
Meanwhile, Conference USA betting odds place UAB (+250) and Western Kentucky (+350) as teams to challenge the Roadrunners. The Blazers are athletic and can match up with UTSA as BYU found this out when UAB took a 31-28 win over the Cougars in the Independence Bowl.
After Western Kentucky lost the CUSA title game to the Roadrunners, the Hilltoppers surprised solid Appalachian State, 59-38, in the Boca Raton Bowl. Quarterback Bailey Zappe, now a New England Patriot, threw for 442 yards in the final game of his Hilltoppers career. Let's dive into these Conference USA odds from the best College Football Betting Sites and make some winning predictions.
Conference USA Odds to win Conference USA:
Team
Odds
UTSA
+225
UAB
+250
Western Kentucky
+400
Florida Atlantic
+800
Middle Tennessee
+1200
North Texas
+1400
UTEP
+2000
Charlotte
+2000
Louisiana Tech
+3300
Rice
+5000
Florida International
+10000
Passion.
UTSA Fall Camp Practice No. 10 📽️ presented by @FrostBank#210TriangleOfToughness | #BirdsUp 🤙 pic.twitter.com/B2UmpKKjGo
— UTSA Football 🏈 (@UTSAFTBL) August 15, 2022
Roadrunners Look Like CUSA Favorites Once Again
Quarterback Frank Harris and his consistency make UTSA (+225) the CUSA favorite once again of the majority of college football betting sites. Harris threw for 3,177 yards and connected on 66 percent of his passes with 27 TD tosses and only six interceptions.
Harris returns for his fifth season and will work with three wide receivers in Zachary Franklin, Joshua Cephus, and De'Corian Clark to make this one of the most consistent pass offenses in the nation. Franklin was the leader of the group with 1,027 receiving yards and 12 touchdowns. The triplicate caught 23 of UTSA's combined 31 touchdown passes.
Sincere McCormick's move to the Las Vegas Raiders in the NFL will leave UTSA with an untested rushing attack. Harris was the second leading rusher, but Brenden Brady could emerge as the feature back after he averaged 4.7 yards per carry and ran for 308 yards.
UTSA was a run-stop defensive unit and was second in the conference against the run, allowing just 114.7 yards per outing. The Roadrunners had trouble with passing units as they allowed 258 passing yards per game, but only had 12 interceptions albeit 33 sacks. They were the number one CUSA team in turnover ratio with (+12).
Safety Rashad Wisdom was UTSA's leading tackler with 87 as he will play behind a solid pair of linebackers in Trevor Harmanson and Jamal Ligon. The Roadrunners have been posted with 8.5 wins and (-160) is the Conference USA betting odds for them to go UNDER with (+135) as the odds to hit the OVER.
Blazers Looking to Burn Roadrunners around McBride's Rushing Acumen
UAB has Conference USA odds at (+250) to win the league as the Blazers have one of the top running backs in college football in Dewayne McBride. He had 105.5 yards rushing per game and was third in the league with his 13 rushing touchdowns.
McBride had six games with over 100 yards rushing and were led by 210 yards on 14 carries in a win over Louisiana Tech. Dylan Hopkins is back at quarterback where he pushes UAB with his consistency. The Blazers are not a pass offense although Trea Shropshire and tight end Gerri Prince allow Hopkins to execute in the passing game when needed. The Blazers will possess one of the nation's top defenses after stopping teams with a 328.8 average per game while allowing a league-low 23.2 points per game.
Noah Wilder is UAB's top defensive playmaker with 93 tackles while cornerback Starling Thomas, V, led the Blazers with eight interceptions. Like UTSA, UAB has been dealt 8.5 wins with (-145) on the UNDER and (+110) if you stake the OVER.
Will Boler – Out. Of. NOWHERE 😮‍💨😳 pic.twitter.com/i1SK7vTgyi
— UAB Football (@UAB_FB) August 13, 2022
Hilltoppers' Offense Could Push Them into CUSA Title Contention
With the diverse talents of QB Bailey Zappe now in the NFL, Western Kentucky (+400) head coach Tyson Helton will likely start West Virginia transfer Jarret Doege under center.Doege started his career with Bowling Green and he will be in a quarterback battle with Austin Reed, who transferred to Bowling Green from Division II West Florida.
The Hilltoppers lose their top two wide receivers as both were easily over 1,000 yards, but Daewood Davis returns where his 743 receiving yards were third and his 17.7 yards per completion led the team. WKU gave up 435.8 yards per game, so the 'Toppers have to assert themselves as a run-stop unit although opponents scored only 23.2 points per game, first in CUSA.
Defensive back Antwon Kincade had 100 solo tackles while Jaden Hunter is a solid linebacker who was third with 66 stops. After a 52-46 loss to UTSA, Western Kentucky only gave up 52 points again in the next three games. Conference USA betting odds post the Hilltoppers with 8.5 wins and an OVER at (-140).
Owls Moving Forward Behind Talented Quarterback in Perry
Florida Atlantic (+800) senior quarterback N'Kosi Perry is looking for an even more solid season after he threw 20 touchdown passes against only seven interceptions in 2021. However, the Owls' offense struggled down the stretch in losing their final four games and falling to 5-7. Perry will have his top three wide receivers returning, led by LaJohntay Wester, who caught 62 passes and netted 702 receiving yards.
Former USF transfer Johnny Ford returns at running back where he tallied a team-high 831 yards and a team-high five rushing TDs. He also caught 23 passes for 280 yards and is as solid of a dual-threat as there is in CUSA. FAU could struggle defensively if its depth is not at a level where it can solidify matchups with opponents. The Owls gave up only 39 touchdowns which were tied for the lowest mark in the league.
They return a solid sophomore in defensive tackle in Evan Anderson, who was a stalwart up front as a freshman. Safety Teja Young was the fourth leading tackler and led FAU in interceptions with three. The sportsbooks have the Owls set with 5.5 wins as the OVER is posted at (-160) and UNDER netting (+135).
This week's practice began at the Oxley 🏈
Notes and highlights from today 📝 https://t.co/nz4gIr3PbT
— FAU Football (@FAUFootball) August 15, 2022
Blue Raiders Looking to Restructure Offense Around Lane's Ability
Wide Receivers Yusuf Ali and Jaylin Lane are two returning keys in the Middle Tennessee State (+1200) offense. Ali led the Blue Raiders with 45 catches and Lane was a solid playmaker in the last eight games. MTSU features a quarterback battle between Chase Cunningham and Nick Vattiato, who both started five games a year ago.
Defensively, the Blue Raiders were solid in the run-stop, but they lost several players who were either transferred or used up all of their eligibility. Linebacker DQ Thomas will be the leader of the defense where he was third in tackles with 87 and led the Blue Raiders with five QB sacks.
The first four road games are tough assignments as they are at James Madison, Colorado State, Miami, and UAB. Conference USA betting odds have MTSU posted with 5.5 wins as oddsmakers project the number could go either way as the OVER is at (-105) with the UNDER at (-115).
Mean Green Looking to Pick Up Offensive Approach
North Texas (+1400) started 2021 with a 1-6 record, then won five in a row to get into the Frisco Bowl Classic where they lost to Miami (Ohio). The Mean Green is a solid running offense in returning their second and third leading rushers in Ikaika Ragsdale and Ayo Adeyi. The duo picked up 534 and 496 rushing yards, respectively.
Austin Aune is the returning starter at quarterback but will get competition from former North Carolina QB Jace Rudder and a former Memphis Tiger in Grant Gunnell. Aune only completed 51.2 passes last season as this will be a top quarterback battle. Roderic Burns will be back as UNT's top wideout with 802 yards and a team-leading four receiving TDs.
Defensively, KD Davis and Tyreke Davis check in as the two top tacklers with 120 and 75, respectively. Larry Nixon, III, is also a linebacker who can produce as he was the third leading tackler for the Mean Green. UNT was second in CUSA in quarterback sacks with 38, but they found only six interceptions. The Mean Green has been placed with a 6.5 win total with an EVEN on the OVER and (-120) poised on the UNDER.
Miners Look For Further Push In Climbing CUSA Ladder
UTEP lost five of its last six games, but the Miners were able to challenge Fresno State in a 31-24 loss in the New Mexico Bowl. Conference USA odds have the Miners sitting at (+2000) to win the league. Gavin Hardison will once again be under center although he loses his top wide receiver with the transfer of Jacob Cowing to Arizona.
Hardison will look to complete higher than 55.5 percent of his passes as he had 18 TD throws with 13 interceptions with 19 sacks. Tyrin Smith will be a solid threat at wide receiver where he averaged 17.3 yards per catch and 570 yards. The ground game could be the Miners' biggest offensive advantage with Ronald Awatt, who netted 843 yards, 5.3 yards per carry and six TDs. Defensively, UTEP was second in the league as the Miners only allowed 349.2 yards on the defensive side of the football.
UTEP will have a tough defensive front once again in defensive end Praise Amaewhule, who had 5.5 sacks and two forced fumbles. Linebackers Breon Hayward (108) and Tyrice Knight (102) were the Miners' leading tacklers as the front-7 will be UTEP's best characteristic on defense. The Miners have been given 5.5 wins by the oddsmakers as OVER is seen at (-125) while the UNDER is posted at (+105).
49ers Looking For Continual Offense with a Defensive Surge
Charlotte (+2500) has the talent on offense to light up scoreboards with quarterback Chris Reynolds who can engineer a consistent attack that can carry the Niners over the 27.2 points per game of a year ago. Victor Tucker and Grant DuBose will once again be the key weapons on the outside for Reynolds.
DuBose had 892 yards and six TDs as he averaged 90 yards receiving per game in his last three outings. The 49ers assert an excellent one-two punch at running back where Shadrick Byrd (132) and Calvin Camp (113) combined for 245 of the 49ers' 430 carries. Camp was a force as he found 5.6 yards per carry. Defensively, Charlotte has to fix a defense that gave up 465 yards per game, 13th in the league, and 34 points per game, 12th in CUSA. Stopping the run was the biggest issue as opponents found 204.2 yards on the ground per outing, 13th in CUSA. Defensive end Markees Watts is the leading returning tackler where he had 61 and his six quarterback sacks led Charlotte.
Charlotte is sitting at 4.5 wins with the OVER at (-105) and an UNDER at (-115), according to Conference USA conference odds. Nonconference matchups at home vs. Maryland and at South Carolina will be quite the gauge as to how this team can finish.
In part two of our Top-35 players in Conference USA rankings, this installment features a pair of defenders in Boca, a gutsy QB in Charlotte, another excellent DB out of Ruston & a standout LB in El Paso.
Here are numbers 20-11 from @EricCHenry_ #CUSAFB https://t.co/GQGF5TQSRD
— Underdog Dynasty (@underdogdynasty) August 8, 2022
Louisiana Tech leads Rice and FIU in CUSA Basement
With Sonny Cumbie as the coach of the Louisiana Tech Bulldogs, the program will not be synonymous with the basement for long although their Conference USA betting odds to win the league is (+3300) this season. A quarterback battle between a pair of Big 12 transfers in Texas Tech's Parker McNeil and TCU transfer Matthew Downing will help to start to shape the offense.
The Bulldogs have plenty of experience among receivers with Smoke Harris and Tre Harris as the leading returnees. The two combined for ten of the Bulldogs' 22 TD catches a year ago. Defensively, Louisiana Tech was 106th in the nation in total defense as the Bulldogs gave up 434.3 yards per game while giving up 34 points per game.
Linebacker Tyler Grubbs returns after leading the Bulldogs in tackles with 97. Louisiana Tech is set with 4.5 wins and an OVER at (-120) while the Bulldogs are EVEN with the UNDER. Meanwhile, Rice (+5000) posts a solid running back in Ari Broussard, who led the Owls with 569 rushing yards. The defense was a struggle as well as Rice gave up 435.5 yards and 36 points per game.
Rice brings back its leading tackler in safety Naeem Smith, who had 64 tackles and four interceptions. Oddsmakers gave the Owls 3.5 wins with the OVER at (+110) and the UNDER at (-130). Florida International finished 1-11 as wide receiver Tyrese Chambers posted 1,074 yards on 45 catches and he averaged 23.9 yards per catch.
Bryce Singleton steps in beside him at wideout where he had 847 yards for 18.4 yards per catch. The Panthers gave up 491.3 yards per game as they were last in CUSA while opponents ran the ball for 228 yards per outing. FIU has dropped 18 in a row vs. FBS opposition and the first three FBS games are on the road at Texas State, Western Kentucky, and New Mexico State.
Conference USA Odds have FIU as a long shot at (+10000).
Sportsbooks have listed the Panthers with 3.0 wins and (-115) on the OVER with (-105) listed in conjunction with the UNDER.
Conference USA Odds to Make Title Game:
Team
Odds
UTSA
-105
UAB
+105
Western Kentucky
+220
Florida Atlantic
+300
Middle Tennessee State
+450
North Texas
+500
UTEP
+750
Charlotte
+800
Louisiana Tech
+900
Rice
+2800
FIU
+4000
Take the Roadrunners as a Slight Conference USA Favorite
You can go about three different ways to pick a Conference USA champion with UTSA (+210) and UAB (+225) having the best odds to win the championship game this season. These two squads have the best Conference USA odds to make it to the title game as UTSA is placed at (-105) and UAB (+105) is just the Roadrunner behind the Roadrunners.
Quarterback Frank Harris has plenty of experience and that makes an impact with his confidence as he plays with lots of calmness matter the situation. The Roadrunners' likely opponent in the Conference USA championship game is the UAB Blazers who have a solid and experienced secondary and they can match up with the wide receiver depth of UTSA. This defense at UAB vs. Harris and the UTSA offense is a made-for-TV entity as the two teams meet up in Birmingham on Nov. 5.
UAB will challenge the Roadrunners with their running game which is built around Dwayne McBride, who averaged 6.7 yard per carry for coach Bill Clark. The Roadrunners feel like a winner in a close contest as Harris and his receiving corp have enough to take a win in the championship.
CUSA Bets:
Odds to Make the CUSA Title Game