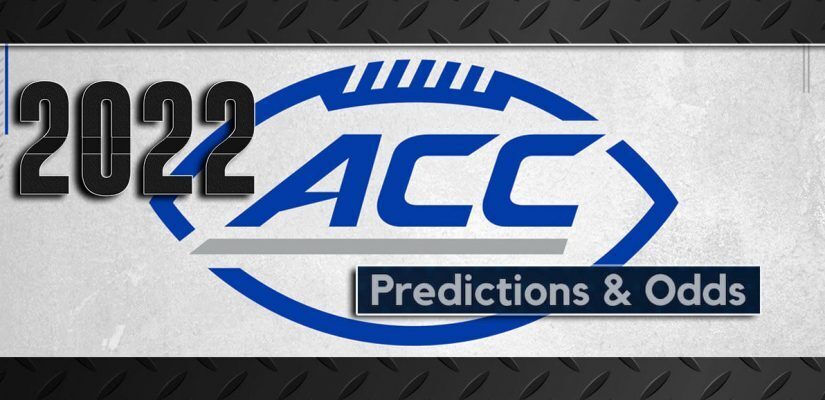 Finally, we caught a break from the domination of the Clemson Tigers as six straight titles in the ACC Championship game ended when Pitt took a 45-21 win over Wake Forest last December. The Tigers (-120) are back on board as the favorite to win the ACC and they currently have the fourth best odds and best ACC odds to win the national championship (+800).
The ACC odds also tab the Miami Hurricanes (+550), who enter Coach Mario Christobal's first season, as the closest challenger to the Tigers. Miami will try to restructure its defense, especially against the pass where the 'Canes gave up 21 TD passes and only picked off four balls. NC State and Pitt share ACC betting odds (+800) to compete in the ACC Atlantic with Clemson. The lack of college football diversity is once again underlined in the ACC with Clemson's six-season domination that ended in 2021. The Tigers once again are in the mix with the fourth-best odds (+800) to win the national championship. They are behind Alabama (+210), Ohio State (+350), and Georgia (+475) as suggested by the national championship odds.
The conference's schedule is much easier so ACC predictions will not be as questionable from week to week. Clemson playing at Notre Dame (+5000) on Nov. 5 and hosting Miami on Nov. 19 could tell where the Tigers stand.
Miami (+550) has the second-best odds to win the league and even the national championship (+6600).
These numbers show the hill the 13 ACC teams have to climb to approach the Tigers. NC State quarterback Devin Leary (+2800) has the best odds to win the Heisman Trophy in the ACC, according to College Football betting sites. Leary is followed by Miami QB Tyler Van Dyke and Wake Forest quarterback Sam Hartman, who share odds at (+3300). Clemson signal-caller D.J. Uiagalelei (+4000) is the long shot among the four ACC quarterbacks.
Odds to win ACC Championship
Team
Odds
Clemson
-120
Miami Fla
+550
NC State
+800
Pittsburgh
+800
North Carolina
+1500
Wake Forest
+1800
Louisville
+2800
Florida State
+3500
Virginia
+3500
Boston College
+4000
Virginia Tech
+5500
Georgia Tech
+20000
Syracuse
+25000
Duke
+100000)
Odds to Win the ACC Atlantic Division
Team
Odds
Clemson
-220
NC State
+500
Wake Forest
+750
Florida State
+1600
Boston College
+1800
Louisville
+2500
Syracuse
+10000
Floatin' pic.twitter.com/eLoftzEoRQ
— Clemson Football (@ClemsonFB) August 7, 2022
Clemson Looks to Retake Challenging Position in ACC
Swinney was faced with restructuring his staff as offensive coordinator Tony Elliott left Clemson (-120) and went to Virginia as the head coach and defensive coordinator Brent Venables is now the head ball coach at Oklahoma.
The talent on the Tigers' squad should buy plenty of time as Swinney elevated Brandon Streeter to his current offensive coordinator and Wes Goodwin to the defensive coordinator spot. Offensively, the Tigers struggled mightily last season as Uiagalelei had only nine touchdown passes against ten interceptions and he threw for only 191.9 yards per game, 11th in the ACC.
Uiagalelei started on football betting sites with the second-best Heisman Trophy odds (+700) in 2021, but is a long shot (+4000) as of now. Joseph Ngata and Beaux Collins are the two returning receivers as Ngata averaged 19 yards per catch and Collins had three of the Tigers' touchdown catches.
Will Shipley (+10000) will again return at running back where he was seventh in the league with just 73.8 yards rushing per game. The Tigers added a five-star quarterback in Cade Klubnik (+10000), who could challenge Uiagalelei if the veteran QB cannot develop confidence and accuracy.
Offensively:
The Tigers must produce as they were 13th in the league in garnering 359.1 yards and only 38 touchdowns which were 11th in the ACC. Linebacker Trenton Simpson returns on defense where he is the leading returning tackler in making 65 tackles last season. K.J. Henry and Xavier Thomas return to the line as two solid pass rushers who combined to total eight sacks.
The Tigers have no returning tacklers who were in the ACC's Top 25 although lineman Myles Murphy had 14 tackles-for-loss, seventh in the league. Oddsmakers' ACC predictions have posted the Tigers with a 10.5 win total and (-130) for UNDER with (+100) for OVER.
Wolfpack Getting Closer to Clemson's Trail
NC State's ACC odds sit at (+800) and they have the talent on both sides of the ball to play in Charlotte at the ACC title game on Dec. 3.
At quarterback:
Devin Leary (+2800) has the accuracy and the potential, but he must improve the 157.0 passing yards per game after completing 65.7 percent of his passes. Leary threw for 315.4 yards per game in his last five outings, so he proved that he can be a big-time performer. He threw 18 touchdowns with only three interceptions in those outings as the 'Pack tallied a 4-1 record.
With Emeka Emezie off to the Carolina Panthers and the NFL, NC State returns it's second and third most productive wide receivers in Thayer Thomas and Devin Carter.
Carter is a playmaker who can get deep down the field as he averaged 17.9 yards on 31 catches. Thomas is a go-to wideout who netted 51 receptions with a team-high eight touchdown catches. The Wolfpack will look for balance on offense with the emergence of a new running back in Jordan Houston, who rushed for 83 yards a year ago. They lost their two leading rushers, Zonovan Knight and Ricky Person to the Jets and Ravens. Coach Dave Doeren returns some experienced players to a defense that was third in the ACC in allowing only 331.6 yards per game. The 'Pack had the third-best numbers against the run (124.0 yards) and the pass (207.6 yards).
NC State had a plethora of injuries on defense which should allow depth in all three phases. Linebacker Drake Thomas was State's leading tackler and also was prevalent enough to obtain all-ACC with six sacks and three interceptions providing key playmaking.
Please Note:
Tanner Ingle returns to the secondary as he followed Thomas's 99 tackles with 82 total tackles his own. Leading the ACC with only 19.7 points allows NCSU in positioning itself in the ACC Championship game for the first time in the history of the program. NC State accrued a (+6) turnover margin which could be a major stride toward their post-season aspirations.
The Wolfpack have ACC betting odds set with 8.5 wins in the regular season. They place (-150) to go OVER the number and (+120) to slip UNDER. The 'Pack sits at (+10000), third in the ACC, to win the national title.
Deacons, Hartman Look For Push Forward After 2021 Success
Wake Forest is realizing solid success under Dave Clawson as the Deacons finally made it to an ACC Championship game although losing to Pitt. The Deacons' ACC odds sit at (+1800) for a return to Charlotte and (+25000) for a national championship.
Clawson and company return one of the nation's top quarterbacks in Sam Hartman, who was third in the ACC in averaging 302 yards passing per game with 39 touchdown tosses and 14 interceptions. Hartman (+3300) returns a solid receiver in A.T. Perry, who netted 18 yards per catch with 15 touchdowns and 1,293 yards, third in the league. Hartman rushed for a team-high 11 touchdowns as he netted 363 yards on  117 carries.
Sophomore Justice Ellison will likely be the featured back as leading rusher Christian Beal-Smith transferred to South Carolina. Ellison led WFU in averaging 5.1 yards per carry as he joined Beal-Smith in scoring seven rushing TDs.
Please Note:
Brad Lambert returns as the Wake Forest defensive coordinator to try to get the Deacons out of the habit of having to outscore opponents to win games. In turn, that would allow Hartman's 14 interceptions to drop and push him into a different college football mentality. Wake Forest returns its second, third, and fourth tacklers in what should help improve them defensively. Safety Traveon Redd had 70 tackles (3rd) and he also netted three interceptions and three fumble recoveries. Redd took one of those picks 83 yards for a touchdown in the win over Army. Ryan Smeda, Jr., returns at inside linebacker where he was the second leading tackler with 83. Fourth-leading tackler Rondell Bothroyd returns as a stopper on the defensive line where he was second on the team with eight sacks.
The Demon Deacons were 12th against the run, giving up 195.4 yards per game and will look for more physical play up front. Wake Forest's prop is 8.5 wins and the UNDER sits at (-150) with the OVER (+120).
Our guy 🎩 pic.twitter.com/7KvmKDbMwR
— Wake Forest Football (@WakeFB) August 8, 2022
Seminoles Look For Return To Fostering Wins in Norvell's Third Season
Florida State has recorded four losing seasons in a row as they lost the Sun Bowl in 2019 and finished 6-7. The Seminoles' last losing record beforehand was 5-6 in 1976. There's burgundy and gold on the horizon in Tallahassee once again with Jordan Travis back at quarterback as he completed 62.9 percent of his passes with 15 touchdowns and only six interceptions.
Travis shows off poignant dual-threat skills where he had 530 yards rushing a year ago and has 1,099 yards on 231 carries in the last two seasons. He comprised a 5-2 record last season in the games he started, so his rise within FSU football is a reality. Transfers Mycah Pittman from Oregon and former Arizona State Sun Devil Johnny Wilson should help Travis put together more consistency in the passing game.
Pittman caught 12 passes for 197 yards last season as he was also a punt returner. Meanwhile, Wilson is 6-6, 220, and a major red zone target with his speed and footwork. Ontario Wilson is the leading at wide receiver where he averaged 16.6 yards and made five TD catches. Sophomore Treshaun Ward is the leading returning rusher where he had 515 yards with 6.4 yards per carry.
Defensively:
Florida State gave up 144.6 yards per game, which was literally the sixth-fewest in the ACC. FSU houses one of the deepest secondaries in college football with leading tackler Jammie Robinson who turned into a leader with four interceptions and two forced fumbles. As the Seminoles try to go forward defensively, the addition of University of Albany transfer Jared Verse will be a storyline as he played in 15 games for the Great Danes and had 14.5 sacks. He will join Fabian Lovett and Robert Cooper, who were playmakers up front for the Seminoles in 2021. FSU looks for its first winning campaign since Fisher left for Texas A&M. The Seminoles are still far removed with a (+1600) number to accrue the Atlantic Division title.
Florida State has been set with 6.5 regular season wins with (-145) to go OVER and (+115) as an UNDER. The 'Noles' ACC betting odds are at (+3500) in the league as they are looking to once again challenge in the Atlantic Division.
OUTSTANDING first impression#NoleFamily | #KeepCLIMBing pic.twitter.com/6sIAACwUq5
— FSU Football (@FSUFootball) March 21, 2022
BC's Eagles Look to Fly Past Cardinals, Orange
Hatching at the bottom of the Atlantic Division, the Boston College Eagles (+1800) are settled above the Louisville Cardinals (+2500) and Syracuse (+10000).
Boston College struggled after a 4-0 start last season when they only averaged 10 points per game in the four losses after the 4-0 beginning. BC returns quarterback Phil Jurkovec (+8000) and his top wide receiver in Zay Flowers.
Jurkovec went through an injury to a broken hand and he came back in the last four games to produce two wins and make the Eagles become bowl eligible. Flowers caught 44 balls and averaged 17 yards per catch.
Defensively:
BC was a top team as the Eagles allowed only 344.3 yards per game and led the league in only allowing 173.5 passing yards per outing. Boston College was awarded 6.0 wins with the OVER at (-105) and the UNDER measuring (-125). Meanwhile, Louisville returns a prolific QB in Malik Cunningham as he led the Cardinals to 446 yards per game last season. Cunningham (+6000) scored 20 touchdowns on the ground while rushing for 1,031 yards.  In addition, he completed 63 percent of his passes for 2,941 yards with 19 touchdowns and six interceptions. Cunningham is also looking at (+4000) to be picked first overall in the NFL Draft next April.
The Cards lost a speedy receiver in Tyrell Harrell who transferred to Alabama but added Miami's Dee Wiggins and Tyler Hudson of Central Arkansas. Cunningham and running back Jalen Mitchell could accentuate ball control on the ground as Mitchell rushed for 722 yards and five touchdowns in 2021.
Defensively:
The Cards gave up 403.3 yards per game, ninth in the ACC, and they only picked off ten passes. Defensive back Kendrick Duncan is the leading returning tackler as he had 53 with one interception. Louisville looks like a sleeper at sixth in the Atlantic as they are given 6.5 wins. The UNDER sees a (-125) with an OVER at (-105) Syracuse is still on the bottom as Coach Dino Babers enters his seventh season.
The Orange return a stellar running back in Sean Tucker (+20000), who led the ACC in rushing with 124.7 yards per night. Defensively, linebacker Mikel Jones was the leading tackler with 109 stops. Syracuse has been handed 4.5 wins by oddsmakers with the UNDER at (-125) and the OVER resting at (-105).
PLACE YOUR BETS NOW!
ACC – Odds to Win the Coastal Division
Team
Odds
Miami
+145
Pitt
+260
North Carolina
+350
Virginia
+700
Virginia Tech
+1000
Georgia Tech
+3500
Duke
+20000
New week. Lock in. pic.twitter.com/05sGWAqk27
— Canes Football (@CanesFootball) August 7, 2022
New Staff Ready For ACC to Handle Miami's Storms
Coach Mario Christobal heads back to his alma mater where the Miami Hurricanes (+550) are looking for their first ACC championship since entering the conference in 2004. Miami is the most solid piece of college football history in the league as the 'Canes have five national championships, but they have not been a national player since coach Larry Coker was fired in 2008.
The Hurricanes have a Heisman Trophy candidate in quarterback Tyler Van Dyke (+3300), who threw 25 touchdown passes against only six interceptions with a 62.3 percent completion rate in his first season. Van Dyke loses Miami's top two receivers, but returnee Keyshawn Smith, who had 405 yards on 33 catches with three touchdowns, looks like the go-to man in the passing game.
Xavier Restrepo brought in 15.5 yards per catch as he had 89 yards on seven catches in Miami's win at ACC champion Pitt. The 'Canes' running attack behind Jaylan Knighton and Cam'Ron Harris should be one of the best one-two punches around the nation. Knighton had eight touchdowns and 561 yards to lead the 'Canes last season.
Defensively:
Miami only picked up eight interceptions while allowing 250.6 yards through the air. In addition, they will try to rebuild their defensive front where they lost their top two sack artists in Zach McCloud and Deandre Johnson to the NFL. Linebacker Corey Flagg, Jr. was the leading tackler last season when he planted three sacks inside of his 60 tackles. The Hurricanes are solid in the secondary where they have safety James Williams and cornerback Tyrique Stevenson as key leaders. Both of them were playmakers around the football as Williams picked off two passes and Stevenson had one which was a 39-yard interception return for a score.
Miami is posted with 8.5 wins with (-130) to go OVER the 8.5 and (+100) as the UNDER. The 'Canes are only set up at (+6600) to win the national championship, which is the second-best odds in the ACC.
Pitt's Talent Can Spell Back-to-Back Coastal Titles
The Pitt Panthers took their first ACC championship a year ago and are tied with NC State with (+800) ACC odds to accomplish that feat again. Without Kenny Pickett at quarterback, many presume that the Panthers will struggle, but Kedon Slovis transferred from USC where he took Pac-12 Freshman of the Year honors when he hit 3,500 yards and 30 touchdowns during year one.
Slovis' injuries caused his demise in LA and now that he has gotten healthy, he should be able to create solid matchups with wide receiver Jared Wayne, who had 658 yards and six touchdowns. He takes over since Jordan Addison left for USC after 100 catches last season at Pittsburgh. Transfer Konata Mumfield had 61 catches for 751 yards and eight touchdowns for Akron last season and became one of the biggest transfers into the ACC in coming to the Panthers. Running back Israel Abanikanda will try to upgrade the Panthers' rushing offense as they were 11th in the conference in averaging 149.2 yards on the ground.
Coach Pat Narduzzi is not only one of the top coaches in the nation, he is also one of the top defensive specialists. Pitt led the ACC in stopping the rush at 88.7 yards per game, but the Panthers had trouble vs. the pass as they were 12th in allowing 264.3 yards passing per game.
Please Note:
Middle linebacker SirVoccea Dennis returns on the front that comprised 54 sacks and he led Pitt in tackles with 82. John Petrishen and Brandon Hill had 71 stops each as they were among the top players in defending passes. Calijah Klancey had seven sacks and 13 tackles-for-loss off the Panthers' defensive line. Pitt averaged nearly four sacks per contest and allowed only 353.6 yards defensively, 39th in the nation.
As you look at the depth charts, this team has six returnees on defense that were all-ACC last season. Pittsburgh is set up with 8.0 wins for the season and odds at (-125) to go UNDER and (-105) to post OVER eight victories.
Tar Heels Looking For Pertinent QB; Tightened Defense
With Sam Howell off to the NFL's Washington Commanders, North Carolina has a pair of solid young quarterbacks in Drake Maye, whose brother Luke starred in the Tar Heels basketball program, and Jacolby Criswell. Carolina still has the fifth-best ACC betting odds (+15000) to win the league while their number (+20000) is a long shot to win the national championship. Wide receiver Josh Downs will give either quarterback a solid wide receiver as he caught 101 balls for 1,335 yards and eight touchdowns.
Downs is a big play receiver:
Downs was over 100 yards in five games and had 203 receiving yards in a win over Virginia. With Ty Chandler joining Howell in the NFL, Carolina lost roughly 70 percent of it's rushing attack. British Brooks and D.J. Jones will be the heirs apparent as Brooks had 287 yards rushing on 27 carries and three rushing TDs in the Heels' last three outings. North Carolina will build its offensive line with only two returning starters.
Coach Mack Brown brought Gene Chizik back as his defensive coordinator where Chizik implemented the duty in 2015 and 2016. North Carolina will welcome back linebacker Cedric Gray, who led the Heels in tackles with 99, including 2.5 sacks and a pair of interceptions. Cam'Ron Kelly also was a key on defense as he netted four of the Tar Heels' 11 interceptions. UNC has been poised with 7.5 wins by the oddsmakers as UNDER the total (-130) looks like the call with the OVER stationary at (+100).
Coaching Change Should Post Different Cavaliers' Approach
As Virginia coach Bronco Mendenhall left the program and Clemson offensive coordinator Tony Elliott took over the head coaching vacancy, the biggest emphasis is trying to find a way for the Cavaliers to cut deeply into the 466 yards per game that they gave up on defense last season.  They even gave up 734 total yards in a 66-49 loss to BYU.
The squad was thwarted for 42.75 points per game in the last four which were losses that took Virginia from a 6-2 record to a floundering 6-6 spectacle. Those numbers are why the Cavs are posting (+3500) to win the ACC title.
While the secondary is the biggest question mark on the defensive side of the ball, linebacker Nick Jackson compiled 117 tackles in a defense with a pass rush that only totaled 18 sacks. The third and fourth tacklers, linebacker Noah Taylor and cornerback Nick Grant, are a pair of playmakers as Grant defended nine passes and forced two fumbles.
Offensively:
The Cavaliers will have one of the most talented and statistically pragmatic quarterbacks in Brennan Armstrong, who led the league with 404.5 yards passing per game and 31 TD passes with only ten interceptions. Armstrong, who will be looking at an NFL career next season, will have a solid pair of wide receivers in Dontayvion Wicks and Keytaon Thompson. Wicks hauled in 21 yards per catch and nine receiving TDs while Thompson caught a team-high 78 passes for 992 yards.
Virginia had 214 more passes than rushes and Mike Hollins could be the featured back as he rushed for 213 yards. Armstrong may be the leading rusher as he had 98 carries outside of his phenomenal passing attack. The Cavaliers have a tough schedule, but the sportsbooks have given them 7.5 wins and (-175) as an UNDER with the OVER at (+145).
Hokies Start Their Way Forward Under New Coach in Coastal Division
Virginia Tech's ACC odds are sitting at (+5500) and they bring in former Penn State defensive coordinator Brent Pry to replace the offensive-minded Justin Fuentes. Pry was a graduate assistant at VT in the mid-1990s which was under legendary head coach Frank Beamer.
The transfer portal is an entity under Pry as the quarterback position will be settled between Marshall transfer Grant Wells and South Carolina's Jason Brown. Wells had more of a career with the Thundering Herd and Pry says that he wants one of the two to separate himself from the other QB for the season opener. Virginia Tech will look for some consistency on offense after the Hokies finished 12th in the ACC with only 361.6 yards per game. VT will replace three offensive linemen while Malachi Thomas looks like a starter at running back where he picked up 4.7 yards on average on 93 carries last season.
The defense will be a transitional element in Pry's opening act in Blacksburg. He does return the top two tacklers in linebacker Dax Hollifield (92) and safety Nasir Peoples (88). The Hokies were ninth in allowing 392 yards per game while only picking off ten passes.
Please Note:
Currently, VT is set with 6.5 wins, and the oddsmakers post (-160) for an UNDER and only (+130) for the OVER.
Meanwhile, Georgia Tech's ACC odds are (+20000) after GT lost running back Jahmyr Gibbs as a transfer to Alabama. He led the Yellow Jackets in rushing in 2021 and now, Donate Smith will take over as the feature back beside of quarterback Jeff Sims, who is really more of a threat as a rusher than a passer.
Defensively:
GT looks to drop its total defense way down from the 455 yards per game of a year ago. The Jackets were outscored 100-0 by Notre Dame and Georgia in the last two games of 2021. Sportsbooks have GT listed with 3.5 wins and a (-130) that they will stay UNDER with (+100) to record OVER. Duke (+100000) has course ACC odds under a new head coach in the talented Mike Elko, who has been a defensive coordinator at Wake Forest, Notre Dame and Texas A&M.
It is a monumental rebuild as the Blue Devils were outscored 40-23 (rounded off) last season and they gave up 517.1 yards per game while opponents found 58 touchdowns. Duke has been set with (-180) for UNDER 3.5 victories and (+150) for OVER the 3.5 victories.
Tigers Ready to Reassume Position at Top of ACC
Clemson (-120) is stressed as the favorite in the ACC after losing the Atlantic Division to Wake Forest in 2021. They had won six ACC championship games up until last season as they have posted a 7-1 record in the gamut since losing to Georgia Tech in 2009.
The quarterback position will be the start of things for the Tigers with D.J. Uiagalelei returning as a quarterback, but potentially five-star freshman Cade Kubnik could come in and take over if Uiagalelei falters.
The Tigers led the league a year ago as they allowed only 305.5 yards per game as they were strong in both phases a year ago. Clemson should wind up facing Miami (+550), who will be a threat to the Tigers with quarterback Tyler Van Dyke under control of the offense.
The Hurricanes will be a threat in both phases of the offense with Van Dyke and a plethora of wide receivers to attack a Clemson defense that can be as solid as last year's group.
The two teams matchup at Clemson on Saturday, Nov. 19 which could be a preview of things to come in the ACC Championship game, just two weeks later.
ACC Bet:
Win ACC Atlantic Division