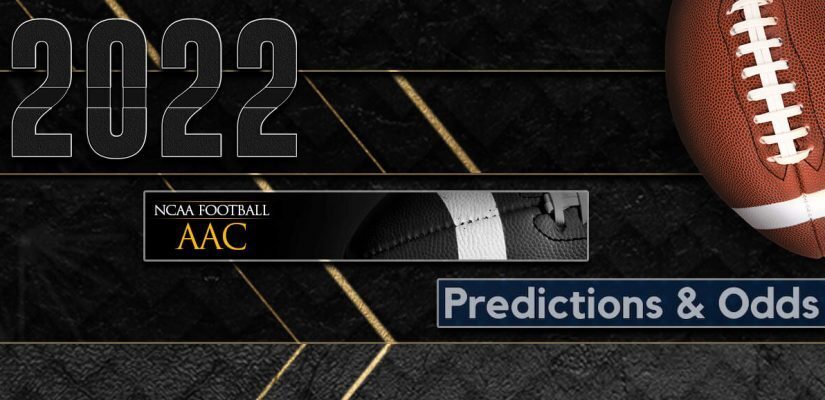 The Cincinnati Bearcats found their way into the CPF semifinals last season and were the first non-Power 5 team to make it into that group in the short history of the playoff field. The Bearcats lost to Alabama but proved that the non-Power 5 deserves representation if the group is going to be listed as NCAA Division-1.
Truthfully:
The NCAA College Football Playoffs should be a 16-team tournament where the winners of all ten conferences are represented with their champions and then six wildcards are given throughout the rest of the field. Cincinnati's AAC odds (+190) are once again favored to win the AAC as Houston (+250) and UCF (+325) are expected to vie for the second playoff berth and the league title. Houston (-135) vs. Cincinnati (-150) are the highest numbers to play in the championship game as UCF (+160) is waiting in the wings.
College football betting sites have given the Bearcats (+20000) the best national championship odds in the conference. Memphis quarterback Seth Henigan has the only AAC betting odds to carry the Heisman Trophy as his (+50000) is nothing more than a long shot.
AAC Odds to Win AAC Championship:
Team
Odds
Cincinnati
+190
Houston
+250
UCF
+325
SMU
+1000
Memphis
+1200
East Carolina
+2000
Tulsa
+3000
Tulane
+4000
South Florida
+5000
Navy
+8000
Temple
+20000
A Saturday at Nippert Stadium…
What more could you ask for? 😍 pic.twitter.com/anaiTglau7
— Cincinnati Football (@GoBearcatsFB) August 13, 2022
Bearcats Look for Redux of AAC Championship, FBS Semifinals
Cincinnati (+190) and coach Luke Fickell were on the brink of history when the Bearcats marched into the FBS semifinals before losing to Alabama. Now the Bearcats have to work in experience with some highly touted recruits from the last three seasons.
Last season's starting quarterback, Desmond Ridder, is off to the Atlanta Falcons and Cincinnati will look for 5-star Evan Prater to step in or Ben Bryant, who signed with the Bearcats two years ago, transferred to Eastern Michigan where he put up numbers and then returned to UC.
Ryan Montgomery averaged 6.8 yards per carry and LSU transfer Corey Kiner, who is a Cincinnati native, will be the two top choices at running back. Tyler Scott (17.3/catch) and Tre Tucker were the second and third leading receivers as Prater or Bryant will have a pair of quality wideouts to showcase in the UC offense. Scott had 520 receiving yards as Tucker put up 426 on 34 catches.
Defensively:
The Bearcats lose the best cornerback tandem in the country in Coby Bryant and Sauce Gardner, so Cincinnati's mindset will shift to the defensive line where the Bearcats return a bigger front and more physicality. Jowon Biggs leads the toughness of the Front-7. Depth at linebacker will be a key for Cincinnati as Ivan Pace comes over from Miami of Ohio to join his brother Deshawn, who is the leading returning tackler with 95. Cincinnati lost six starters on defense to the NFL, but they have depth and talent to repeat that undefeated season. The Bearcats have (-165) set to go OVER 9.0 wins with the UNDER at (+125).
Cincinnati opens at Arkansas to begin the season as the Razorbacks (-7) are a solid favorite. A win in Fayetteville puts the Bearcats back in the category they were in last season when they were the first Group of Five team to get into the CFP.
Cougars' Passing Attack Could Have the Elixir for Bearcats
Coach Dana Holgorsen led Houston to a solid season where the Cougars picked up 12 wins, which included a 17-13 Birmingham Bowl win over Auburn.
Clayton Tune is back at quarterback, completing 68 percent of his passes while throwing 30 TDs against ten interceptions. Tune returns one of the top wide receivers in the nation in Nathaniel Dell, who caught 90 passes for 1,329 yards and 12 touchdowns. Jeremy Singleton (17.1 yards/catch) steps in beside of Dell as does some solid producers who used the transfer portal to get into Houston.
The running game suffered when Austin McCaskill, IV, was lost to an ACL injury in spring ball. McCaskill nailed 961 yards and scored 16 touchdowns.
Defensively:
The Cougars will enjoy the returns of Derek Parish and D'Anthony Jones, who are two athletic and physical linemen and they combined for 12 sacks. Linebacker Donavan Mutin led Houston with 77 tackles and could be the next defensive player in the program to be a high draft choice in the NFL. He plays with a physicality and athletic presence as he also forced three fumbles. Gervarrius Owens looks like the key into secondary with Hasaan Hypolite as Owens picked off two balls and ran one back for a touchdown.
Oddsmakers set Houston with 9.0 wins, the same as Cincinnati, but the Cougars have the potential to win the OVER (-135) instead of the UNDER (+105) on that nine-win mark.
What. A. Catch. 😯@playboisammy #GoCoogs pic.twitter.com/NwYws19CJF
— Houston Football (@UHCougarFB) August 12, 2022
Knights Have Quality To Make AAC Championship Run
Mikey Keene inherited UCF's quarterback job after Dillon Gabriel was injured. The Golden Knights are posted with AAC betting odds at (+160) as Keene completed 63.6 percent of his throws with 17 touchdowns and six interceptions.
Please Note:
Ryan O'Keefe will once again be the go-to guy at wide receiver as he caught 84 calls for 812 yards and will work beside of Kobe Hudson, a productive Auburn Tigers transfer. Johnny Richardson and Isaiah Bowser return where they shared the running back position, rushing for 733 and 703 yards, respectively. Bowser posted nine touchdowns while Mark-Antony Richards also figured in with 6.4 yards per carry and five TDs. The Knights' defense will be led by a pair of solid cornerbacks in Davonte Brown and Corey Thornton. The duo combined for 19 passes last season as Brown had 13. Safety Quadric Bullard is the leading returning tackler with 84 and six deflections.
UCF hosts Cincinnati on Oct. 29 as both could likely be undefeated with the Knights standing at 7-0. Sportsbooks post UCF with 8.5 wins and (-160) OVER and (+120) UNDER the number.
let's get better today 😤 pic.twitter.com/jAOE8IukL7
— UCF Football (@UCF_Football) August 13, 2022
Offense Once Again Gives SMU a Shot in the Demanding AAC
Coach Sonny Dykes moves over to TCU from SMU (+1000) and new head coach Rhett Lashlee inherits the Ponies, who boast a top-level quarterback in Tanner Mordecai.
The former Oklahoma transfer led the AAC in passing last season as he garnered 302.9 yards through the air with 39 touchdown passes and 12 picks.
Mordecai will see Mustangs wide receiver Rashee Rice as the primary target. Rice led SMU with 64 receptions and he was second in yardage with 670, tying the league lead in touchdowns with nine.
On defense:
SMU has to improve against the pass where the Mustangs were last in the AAC in allowing 278.1 yards per game through the air. Delano Robinson returns at linebacker where he led SMU with 78 tackles and leading sack artist Devere Levelston will be a returnee on the defensive line where he posted a team-high 6.5 sacks.
SMU's AAC betting odds are sitting with 7.0 wins and (-120) to hit the OVER with (-110) carrying the UNDER.
Henigan Looks To Push Memphis Forward in AAC Title Path
The Memphis Tigers (+1200) have the highest-rated Heisman Trophy candidate in the AAC in sophomore quarterback Seth Henigan as his AAC odds sit at (+50000). He passed for 3,322 yards with 25 touchdowns and only eight interceptions.
The Tigers lost their top two receivers in wide receiver Calvin Austin, III, and tight end Sean Dykes, so Javon Ivory and Eddie Lewis, who combined for seven touchdown catches, look like they will be Henigan's top two targets. Northern Illinois transfer Jeyvon Ducker should be the featured running back as he rushed for 1,184 yards for the Huskies last season.
Memphis has to improve its defense in all portals as the Tigers, 30-29, as were able to only pick off nine passes in their 13 games.
Please Note:
Defensive back Quindell Johnson is the leading returning tackler where he netted 104 while Rodney Owens was third a year ago with 78, three sacks, and two interceptions.
Sportsbooks have posted 7.5 wins for the Tigers with (+115) to take the OVER and (-150) on the UNDER.
𝗠𝗶𝗰'𝗱 𝗨𝗽: RB Rodrigues Clark#ALLIN | #GoTigersGo pic.twitter.com/61cQlYIWfd
— Memphis Football (@MemphisFB) August 12, 2022
Pirates Look Ready to Sail AAC Seas Behind Ahlers
Quarterback Holton Ahlers returns to the ECU offensive attack as his experience will allow the Pirates to sail through the high seas of an offensively productive league.
ECU's AAC odds sit at (+2000) which is a higher number than the Pirates have bad in recent years. Ahlers runs a balanced offense in Greenville, NC, as ECU rushed for 20 touchdowns last season and Ahlers threw for 18. This type of balance is not synonymous with ECU football as it has been known as a pass-efficiency frenzy for many seasons. Now, coach Mike Houston has built the program around Ahlers, who completed 61.8 percent of his passes last season and the Pirates use a dual-threat tandem at running back.
Keaton Mitchell rushed for 1,132 yards in 2021 and Rajai Harris, who had 10 fewer carries than Mitchell, and 579 yards.
Defensively:
Xavier Smith and Myles Berry will be a tough one-two punch at linebacker. Berry was the third leading tackler and Smith was fifth. Linebacker Bruce Bivens, who was the Pirates' leading tackler (57), returns as does Warren Saba, who had four of ECU's 15 interceptions.
East Carolina's defense has gotten better under Houston so with so much depth and experience now in the front-7, it could take another solid move forward. ECU has been spotted with 6.5 wins as they are (-145) with the UNDER while (+115) spells the OVER, according to AAC betting odds.
Golden Hurricane Look To March Back Forward
Tulsa (+3000) quarterback Davis Brin will look to cut down the interceptions as he threw 16 and 18 touchdown passes last season.
Tulsa's wide receivers should help allow Brin to pump up his numbers as JuanCarlos Santana is the leading returning receiver with 674 yards on 50 catches last season. He is joined by Isaiah Epps, who is a graduate transfer from Kentucky where he only had 11 catches but showed his speed and route running with 15.5 yards on average.
The Golden Hurricane is generally a running team under Philip Montgomery as they return Shamari Brooks who rushed for 1,029 yards and seven scores last season.
Please Note:
Anthony Watkins is a nice change-up in the running attack where he averaged 7.4 yards per carry and brought in 634 yards rushing. Tulsa was fifth in defense in the AAC as they gave up only 370.1 yards per game. Defensive end Anthony Goodlow and linebacker Justin Wright are two key returnees. Wright led the Golden Hurricane in tackles while Goodlow's six quarterback sacks led Tulsa.
Sportsbooks have given Tulsa EVEN AAC odds in putting together OVER 6.0 wins and (-120) with the UNDER.
Spears is the Key Factor For Green Wave
Tyjae Spears was the fifth leading rusher in the AAC at 71.9 yards per game as Tulane (+4000) was able to pile up 164.8 yards on the ground in each contest.
Spears had over 100 rushing yards in four of his last five games and he ran for 264 yards on 30 carries in a loss at Memphis to end the season. Linebackers Dorian Williams and Nick Anderson will be the leaders on a defense that gave up 429.7 yards per game, 10th in the 11-team AAC.
The Green Wave have been dealt 6.0 wins as the OVER (+110) looks to do better with quarterback Michael Pratt healed from last season's injuries. Under the 6.0 wins is sitting at (-130).
USF Desperately Looking To Push Forward in AAC with Quarterback Competition
South Florida's AAC betting odds sit at (+5000) as the Bulls continue to try to move back to where they are a competitive matchup for the entire conference each week.
Coach Jeff Scott enters his third season as USF brought in Baylor transfer Gerry Bohanon, who completed 62.9 percent of his passes with 18 touchdown throws and seven interceptions for the Bears in 2021. Timmy McClain was the Bulls' QB last season where he improved his yardage as the season went forward. He threw for 1,888 yards with only five touchdown passes against seven interceptions.
USF gets back its leading rusher in Jaren Mangham and leading receiver in Xavier Weaver. Mangham scored 15 touchdowns, which was third in the leagues while Weaver averaged 17.5 yards per catch on 41 receptions.
Defensively:
The Bulls could improve as well as linebacker Antonio Grier leads the top six tacklers back into play from a year ago. Grier had 85 stops with three sacks and a pair of interceptions.
Sportsbooks tabbed South Florida with 4.5 wins as they are EVEN to go over the number, but at (-120) to post the UNDER.
Navy Looks For Improvement After Two Tumultuous Seasons
The Midshipmen have high AAC odds (+8000) as they have had two straight seasons where they could get nothing going on offense. Two seasons ago Navy averaged 16.6 points per game and put up only 275.0 yards per outing and then last season, they averaged 20.1 points and 282.8 yards per game, last in the AAC.
Please Note:
Tai Lavatai looks like the quarterback that will engineer the triple option at Navy after he had 371 yards on 170 carries with seven touchdowns and completed just 55.7 percent of his passes.
John Marshall will return to lead the defense at linebacker where he was the second returning tackler beside of safety Rayon Lane who can lead the defensive backfield for the Midshipmen. Navy has been cited with 4.5 tackles as the UNDER sits at (-125) with the OVER nodding at (+105).
Owls' Struggles will Continue at Bottom of AAC Once Again
Temple (+20000) had as many offensive issues as Navy did in 2021. The Owls averaged just 16.5 points (126th/CFB) and 286 yards per game (125h/CFB).
Quarterback D'Wan Mathis should return as the starter although he completed just 59.5 percent of his passes with six touchdowns while being sacks 17 times.
It was an Owls' rushing attack that only ran for 1,307 yards on 360 carries behind a team-high only, 321 yards by Edward Saydee, and behind a pass offense that only found 177.9 on average per game.
Defensively:
Temple was last in the AAC in allowing 220.6 yards per game. Safety Amir Tyler returns as the leading tackler with a total of 69 in 2021.
AAC Conference odds have been posted for the Owls to win 2.5 games and (-140) to go OVER the number and (+120) for the UNDER.
AAC Odds to make AAC Title Game:
Team
Odds
Houston
-135
Cincinnati
-150
UCF
+160
SMU
+425
Memphis
+475
East Carolina
+600
Tulsa
+1200
Tulane
+1800
South Florida
+2000
Navy
+2500
Temple
+7000
AAC Prediction Continues to Carry the Bearcats
Cincinnati and Houston do not play in the AAC regular season, but once again, this should be the likely matchup for the league title.
However, take Houston for the win which would be a mild upset unless the Cougars are playing at home.
The Cougars sit at (-135) to lead the 11 teams with odds to make it to the AAC title game as the Bearcats (-150) are once again an entity for a position.
AAC Bet:
Houston Cougars to Win AAC
Houston QB Clayton Tune tied with former Bearcat Desmond Ridder as both threw 30 touchdown passes last season.
Please Note:
These were the top two defenses in the league in 2021, but Cincinnati lost several players to the NFL and the Bearcats have to reboot, albeit with a solid group of athletes.
Houston (43) and Cincinnati (38) were the top two defenses in recording sacks as Cincy had 19 interceptions and the Cougs were third with 14.