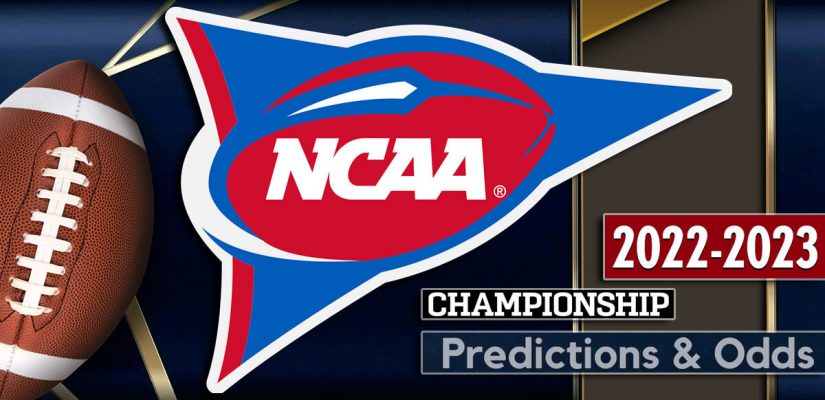 The 2022-23 NCAA football season will begin in just a few short weeks. Some say this is the best time of year, especially for sports bettors. Those that say such things are absolutely correct, in the opinion of this scribe.
The 2021-22 college football campaign was an interesting one. Georgia finally overcame Alabama to win their first national title in over 40 years. Cincinnati became the first school not from a Power Five conference to crack the College Football Playoff field, as well.
Of course, both schools face uphill climbs to repeat their respective feats this coming year. Georgia is currently listed with the third-best chances to win the 2022-23 national title, per the latest NCAA championship odds. Cincinnati, meanwhile, is listed at a distant +20000 to win it all after QB Desmond Ridder left for the NFL this offseason.
As we know, the betting odds tend to fluctuate wildly from week to week in this sport. The preseason betting odds typically don't hold up over the course of a full season, which should give you ample opportunity to find value in the futures odds offered at college football betting sites.
How have the title odds changed since our last update back in May?
2022-23 NCAA National Title Odds
Players
Odds
Alabama
+175
Ohio State
+300
Georgia
+400
Clemson
+1000
Texas A&M
+2500
USC
+2500
Michigan
+4000
Notre Dame
+4500
Texas
+5000
Utah
+6000
Alabama (+175)
Alabama's dominance is almost silly at this point. This program has done nothing but win since Nick Saban took the reins back in 2007. Remarkably, the Crimson Tide have posted 14 consecutive 10-win seasons dating back to Saban's second year in Tuscaloosa.
And they're showing no signs of slowing down. 'Bama loses a huge swath of talented players to the NFL every single year, yet Saban has had no issues simply reloading with another crop of blue-chip prospects.
How Nick Saban's walking in the coaches after he secured another 5-Star in-state DB. pic.twitter.com/KmTGgkQS9t
— Touchdown Alabama (@TDAlabamaMag) July 26, 2022
You can make a pretty compelling argument that the team has never had a better QB than it does now in Bryce Young. That's high praise considering each of the last three starting QBs under Saban are now full-time NFL starters. The returning Heisman Trophy winner is now the third-favorite to win it again this fall, per the most recent Heisman Trophy odds. Will Anderson Jr., the team's star edge rusher, is also a dark-horse Heisman hopeful.
Alabama is the favorite to win the national championship despite the fact that they failed to even win their own conference a season ago. Saban's squad faces a fairly soft schedule this term, which certainly gives them a great chance to get back to the SEC Championship Game and beyond in 2022-23.
The Crimson Tide are literally never a bad bet to win it all, are they?
Ohio State (+300)
THE Ohio State University leapfrogged Georgia into the No. 2 spot in the latest NCAA championship odds update. CJ Stroud is getting an awful lot of Heisman buzz following his phenomenal first year as the Buckeyes' starter, and it's safe to say the Big Ten once again runs through Columbus this year.
Jaxon Smith-Njigba looks primed for a bigger role following the NFL graduations of Garrett Wilson and Chris Olave, while TreVeyon Henderson will look to build off of his 1,200-yard season entering his sophomore campaign.
According the early college football betting odds, the Buckeyes have opened as double-digit favorites in every game on their schedule. This could certainly change depending on injuries and other factors, but that goes to show just how massive the expectations are for Ryan Day's side this year. The Bucks are better than two-touchdown favorites over Notre Dame in their season opener.
all eyes on the Buckeyes 👀 pic.twitter.com/NOBP9Ot4NV
— Ohio State Football (@OhioStateFB) July 27, 2022
Most importantly, Ohio State has already opened as a sizable 13.5-point favorite over rival Michigan. This is just a few months removed from the Wolverines' impressive 42-27 triumph over their arch nemeses last fall in Ann Arbor.
Ohio State's +300 national championship odds could be a little high given how easily they're expected to get through their schedule.
Georgia (+400)
Georgia finally got back to the top of the mountain with a dramatic win over Alabama in the national title game earlier this year. However, the Bulldogs were absolutely ravaged by the NFL draft, which leaves the 2022-23 squad with plenty of question marks as the season gets underway.
Please Note:
Georgia had a whopping 15 players drafted into the NFL back in April, which is the record for one school in the draft's seven-round format. Five of those players, all defenders, went in the first round alone.
The new-look Dawgs will start the season with a stiff test against Oregon in Atlanta on September 3rd. The Ducks are a decorated program, and first-year head coach Dan Lanning should have a pretty good idea as to how to attack Georgia. Lanning was the Bulldogs' defensive coordinator from 2019 through last season.
Since coming to Eugene, Dan Lanning and his staff have now landed the…
-Top-ranked QB in school history (Moore)
-Top-ranked WR in school history (Dickey)
-Top-ranked OT in school history (Conerly)
Incredible recruiting. https://t.co/CciPlCd6Ii
— Zachary Neel (@zacharycneel) July 18, 2022
A loss to the Ducks wouldn't necessarily thwart the Bulldogs' hopes of repeating as national champs, but it would be quite an upset. Georgia has opened as a healthy 17.5-point favorite in what is, for all intents and purposes, a home game against Oregon.
Georgia's +400 national title odds are very attackable.
There's a bit of uncertainty here with so many new faces expected to take on bigger roles in 2022-23, but there's plenty of reason to believe this program has real staying power.
PLACE YOUR BETS NOW!
2022 College Football Championship Odds
Teams
Odds
Alabama
+200
Georgia
+340
Ohio State
+450
Clemson
+1200
Texas A&M
+2800
USC
+3000
Oklahoma
+3500
Michigan
+4000
Utah
+4500
Notre Dame
+4500
Wisconsin
+5000
Oregon
+5500
LSU
+5500
Penn State
+6000
Alabama (+200)
Alabama entering the season as the betting favorite to win it all is a rite of passage by now. The Crimson Tide have appeared in six of the last seven National Championship Games, with three titles in that span. This is arguably the most dominant run we've seen from a single program in the history of the sport, which is saying something.
Nick Saban loses a series of blue-chippers to the NFL every year, but he simply replaces them with the next group of top-ranked recruits. Saban has won a whopping six national titles since 2009 and has cemented his status as the greatest college football coach we've ever seen. The 2022-23 squad will be returning Heisman Trophy winner Bryce Young for a second season as the QB1. All he did as a sophomore last season was complete better than 59 percent of his throws for 4,872 yards with 47 touchdowns and seven interceptions.
He added another three rushing scores for good measure. Young isn't the favorite to win another Heisman this year – that honor belongs to Ohio State's CJ Stroud – but would anybody be that surprised if Alabama's signal-caller went back-to-back?
Bryce Young going 97 Yards in 1:27 🔥 https://t.co/dgmRqzMLmp pic.twitter.com/e223tKbjlz
— Alabama DieHards (@DiehardsAlabama) May 17, 2022
Young did lose star wideouts Jameson Williams and John Metchie to the NFL, but this team has had no trouble replacing departed playmakers over the years. Trey Sanders looks like the favorite to take over for Brian Robinson Jr. in the backfield, but Georgia Tech transfer Jahmyr Gibbs will likely get a chance, too.
Alabama's defense was gouged by Georgia in the national title game, but quite a few key pieces will return this fall. The Tide still boast star edge rusher Will Anderson, while Henry To'oTo'o, Jordan Battle, and DeMarcco Hellams are back, too. Bama yielded 20.1 points per game a season ago, which was the highest single-season average since Saban's first year with the program in '07. Don't be shocked if the team improves considerably on that side of the football with so many veterans back for another season.
I would never talk you out of betting on Alabama's college football championship odds. They seem to make their way to the title game every year, so I'm not sure what more you could ask for in a futures bet. At +200, there is still some meat on the bone with the Crimson Tide.
Georgia (+340)
At this point, Georgia is the closest replica of Alabama anywhere in the country. The Bulldogs haven't yet established themselves as a dynasty, but Kirby Smart has steadily built the program into a powerhouse. Georgia finally won the national title for the first time since 1980 with their 33-18 trouncing of the Tide in the title game back in January.
Since Smart took the reins in 2016, the Dawgs are 66-15 overall with a 5-1 record in bowl appearances.
The question this fall will be whether Georgia can replace the bevy of players lost to the professional ranks. Smart has recruited exceptionally well since arriving in Athens, but replacing Nakobe Dean, Jordan Davis, and others won't be an easy task.
2022 SEC Quarterback Rankings:
1. #Alabama QB Bryce Young
2. 👀
3. 👀
4. #Kentucky QB Will Levis
5. 👀
6. #Georgia QB Stetson Bennett
Full rankings by @harrisonvapnek here⬇️ https://t.co/VBSJI40tDW
— TWSN (@TWSN___) May 16, 2022
Fortunately, veteran QB Stetson Bennett will return to try and run it back. The 5'11", 190-pounder certainly isn't the most imposing physical specimen, but he is a dark-horse Heisman candidate entering his final season. Last year, Bennett threw for over 2,800 yards with 29 touchdown passes and fared exceptionally well against Bama's vaunted defense in the National Championship Game.
Clearly, oddsmakers aren't too worried about all of Georgia's roster turnover. Navigating the SEC is never a breeze, but the Dawsgs' +340 NCAAF championship odds do offer plenty of upside.
Ohio State (+450)
Ohio State went 10-2 overall last year and capped things off with a thrilling 48-45 win over Utah in a thrilling Rose Bowl Game. Their tough loss to Michigan in the season finale kept Ryan Day's squad from qualifying for the College Football Playoff, however, and the sting was likely even more painful when the Wolverines ultimately nabbed that final CFP spot instead.
Despite last year's failure, the Buckeyes are no strangers to the Playoff, of course.
Ohio State has made four CFP appearances since it was launched back in 2014, with one national title in that span. That victory came under Urban Meyer back in 2014, however, so this program is now in the midst of something of a drought, by their typical standards.
Quarterbacks with the highest passer ratings when kept clean last season
🥇 C.J. Stroud: 141.7
🥈 Stetson Bennett: 133.9
🥉 Caleb Williams: 128.6 pic.twitter.com/38uLNgIE0u
— PFF College (@PFF_College) May 12, 2022
CJ Stroud is your early Heisman Trophy favorite, and for good reason. The Rancho Cucamonga native completed an incredible 71.9 percent of his attempts for 4,435 yards and 44 touchdowns to just six interceptions a year ago. The Buckeyes' two-loss season likely resulted in Stroud's fourth-place finish in last year's voting, however.
Ohio State is another program that seems to grow superstar wideouts on trees, so the departures of Garrett Wilson and Chris Olave shouldn't hamper the offense too much next term. At +450 and facing a fairly top-heavy Big Ten schedule, Ohio State's +450 college football championship odds look good, too.
Clemson (+1200)
Before Georgia's rise last season, it was Clemson that served as the biggest annual threat to Alabama's reign atop the college football landscape. Unfortunately, the Tigers endured a rare down year under first-year starting QB DJ Uigalelei. Of course, a "down year" by Clemson's massive standards was still a 10-3 season capped with a win over Iowa State in the Cheez-It Bowl.
Many expected Uigalelei to become the next star Clemson QB on the heels of Deshaun Watson and Trevor Lawrence. Uigalelei came to Clemson as a top-ranked recruit from California with all of the physical tools. Unfortunately, he underwhelmed in his first year as the full-time starter. Uigalelei completed only 55.6 percent of his attempts for 2,246 yards and nine TDs to 10 interceptions. It was a downright dismal showing for an offense that entered the season with lofty hopes.
Uigalelei will have to fight to earn the starting job next year, with another major recruit coming in to battle for the gig. Cade Klubnik, a five-star freshman from Austin, will have a good shot at it. Klubnik comes from Westlake, the same high school that produced future Super Bowl winners Drew Brees and Nick Foles.
Hunter Johnson is also in the mix after transferring over from Northwestern.
Clemson has four appearances in the National Championship Game in the last decade, and the fact that they play in the relatively weak ACC never hurts their chances. A trip to South Bend to take on Notre Dame looks like the toughest game on the schedule. You could do a lot worse than taking a flier on Clemson's +1200 2022 college football championship odds to enjoy a bounce-back campaign.
Texas A&M (+2800)
Texas A&M, huh? Maybe that move from the Big 12 to the SEC is finally starting to pay off. The Aggies will have a new QB in 2022-23 with Max Johnson set to take the snaps after transferring over from LSU. All Johnson did in Baton Rouge last year was throw for over 2,800 yards with 27 touchdowns for a very underwhelming LSU side.
If Johnson struggles in his new digs, the Aggies have a potential star waiting in the wings. Conner Weigman, who was named National High School Quarterback of the Year a season ago, is a physical specimen capable of adding a rushing element not present in Johnson's game. Still, the Aggies' +2800 college football championship odds are a bit of a surprise.
This team went just 8-4 last year, including a 4-4 mark in SEC play. A&M did go 9-1 two years ago and won the Orange Bowl, but this team hasn't won more than nine games in any season since 2012. The Aggies have zero conference titles and zero appearances in the College Football Playoff since moving to the SEC, either.
Who Will Win the College Football National Title in 2023?
Are you ever wrong to bet on Alabama to win it all?
The Tide have failed to win the national title more often than they've won it since Saban took over, but it sure doesn't feel that way. This team is just going to continue to churn out gobs of NFL-caliber talent for the foreseeable future.
Until further notice, you can always bet on Bama's college football championship odds and feel pretty confident in your chances.
I'm less confident in Georgia (+340) than I am in Ohio State (+450), which makes the Buckeyes look like the better value, as of now. Can the Bulldogs replace everyone that left and still keep pace with the nation's other top teams? I don't doubt their chances, but I'm willing to take the wait-and-see approach with the defending champs.
PLACE YOUR BETS NOW!
The best values to win the 2022-23 national title are listed here:
Teams
Odds
Alabama
+200
Ohio State
+450
Clemson
+1200
Georgia
+340
Texas A&M
+2800
PLACE YOUR BETS NOW!